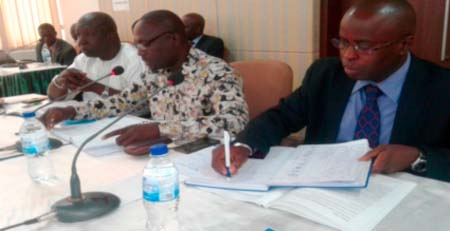 The joint session of the Public Accounts and Public Enterprises committees (PAC/PEC) of the National Assembly yesterday scrutinised the report and financial statement of the Public Utilities Regulatory Authority (PURA).
Presenting the report before deputies, Ansumana Sanneh, Director of Economic Regulation and Finance at PURA, said the authority operates with a dual mandate of regulation and enhancement of the capabilities of the ICT and energy sector.
He said cognizant of their tasks and challenges, they rose to the occasion to deliver on several substantive issues that fell within their purview.
Mr Sanneh stated that as an enabling agency, the authority shall continue to work with its sectors, ministries, and other strategic stakeholders, to enhance the attractiveness of The Gambia as a destination for ICT and energy investment.
"Increased investment and business opportunities will improve the quality of life for our citizenry; through expansion in employment and income, a balanced regional distribution of income and employment, as well as an enhanced portfolio of diverse products and services," he said.
The Gambia's Vision 2020 singles out ICT, as a critical enabler of socio-economic development in particular, he said, adding that the ICT sector has the potential of revolutionising the country's development through digital information.
"With regard to facilitating access to ICT services, the authority and MoICI in consultation with key stakeholders developed the national broadband strategy, that will guide the development of broadband infrastructure and connectivity, content applications and innovations, and capacity building and awareness," Mr Sanneh told deputies.
The strategy lays the foundation for the transformation of The Gambia into a knowledge-based economy driven by a highly-capacity nationwide broadband, he added.
PURA would report back to the National Assembly today for the consideration of their reports.  
Read Other Articles In Article (Archive)