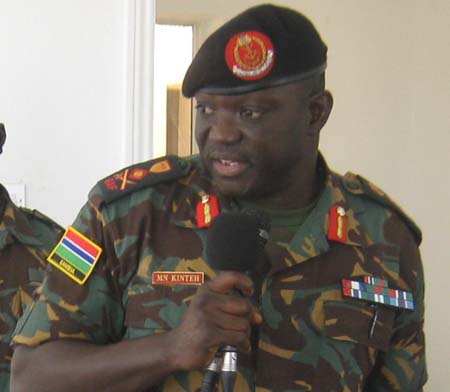 The Chief of Defence Staff, Lt. Gen. Masaneh N. Kinteh, has said that the promotions in the Gambia Armed Forces are not just routine exercise but a deliberate effort on the part of the leadership to ensure that officers promoted must have gone through a standard process coupled with meritorious service.

CDS Kinteh made these remarks on the occasion of the decoration and swearing in ceremony of 18 promoted officers to various ranks within The Gambia Armed Forces at Defence Headquarters in Banjul on Friday.
"I will therefore admonish you as beneficiaries to uphold the principles of unconditional loyalty to the government and people of The Gambia as you have subscribed to; the oaths, our duties must always be performed on the basis of sincerity," he warned.
He said the promotion is one that is consistent with the needs of The Gambia Armed Forces and a promotion that is in accordance with the security sector reform agenda of the government of Adama Barrow.
He added that promotions are supposed to be normal occurrences in every growing and transforming organization. Therefore, in accordance with the available vacancies in The Gambia Armed Forces, he added that the officers was given various research and presentation tasks which they completed within the prescribed time and made their submissions successfully which made them worthy for promotion to their next ranks.
He said the set of officers decorated were equally eligible to participate in the promotional exams newly instituted as part of the wider reforms of the Armed Forces.
CDS Kinteh advised officers to maintain the highest sense of discipline, loyalty and commitment to national duties at all times particularly those promoted to the senior officers' cadre, saying they would come across greater challenges that are synonymous to their new roles, and they must face them with the right attitude.
Read Other Articles In Article (Archive)