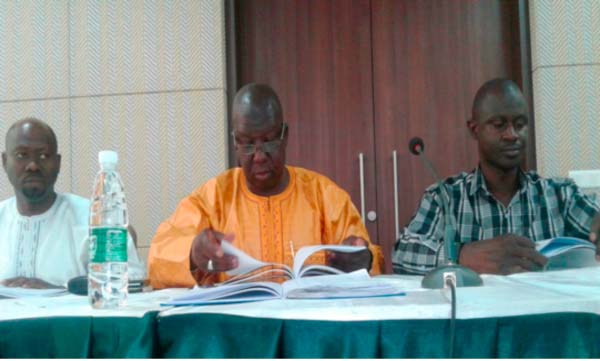 The joint session of the Public Accounts and Public Enterprises committees (PAC/PEC) of the National Assembly yesterday adopted the annual activity report and audited financial statement of the Gambia National Petroleum Corporation (GNPC).
In his contribution, the National Assembly Member for Sami Hon. Ousman Njie thanked the board and management of GNPC for their report.
He also commented on the services of four people on the board of directors, and asked when were the rest appointed because there was no indication as to one Mr Kanyi's membership.
Hon. Lamin Jammeh, National Assembly Member for Illiassa, also thanked the board and management of GNPC for their report and for being 80 per cent compliant, according to GPPA, compared to 78 per cent last year, which is a significant increase.
He as well commented on the corporation's aspect of investment, which "was not implemented and which has been an issue since 2012".
He said he wanted to know how far GNPC had gone in the implementation of the issue raised in 2012, and on the management letter on issues raised by auditors, which was on their payroll.
Hon. Jammeh also talked on the expenditure, saying that some payment vouchers were not authorized. He also spoke on receivables.
Responding to the comments and questions posed to GNPC, the Managing Director of GNPC, Momodou O.S. Badjie, said it was in 2014 that the Act was passed and that Mr Kanyi was appointed after the Act was passed.
The board members mentioned in question "are not currently in GNPC board", which was why their names did not appear, he said.
MD Badjie further stated that "all staff are paid through the bank, and if any staff did not have a bank account, GNPC would normally draw him a cheque instead of asking the station supervisor to pay cash.
On the staff that was terminated, their names were deleted from the payroll when they realised it, he stated.
Read Other Articles In Article (Archive)