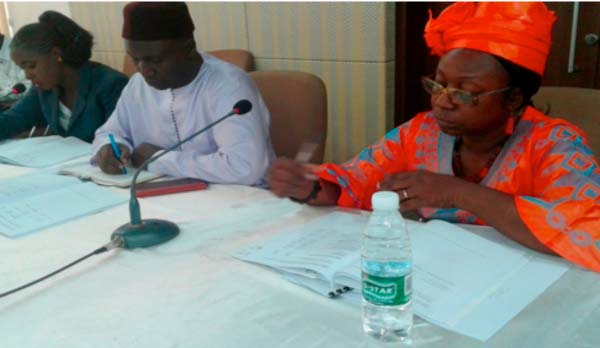 The joint session of the Public Accounts and Public Enterprises committees (PAC/PEC) of the National Assembly last Monday adopted the annual activity report and audited financial statement of the Gambia National Library Service Authority (GNLSA).
In his contribution, the Hon. Speaker Abdoulie Bojang asked GNLSA about their efforts at making libraries accessible to schools, and how PAC/PEC could work with them to make more mobile libraries accessible to schools.
The National Assembly Member for Sami, Hon. Ousman Bah, also thanked the board and management of GNLSA for their report.
He said according to their report there was a discrepancy of D60 between the depreciation amounts charged during the year as opposed to the one charged under income expenditure and the cash flow statement.
Hon. Ebrima Solo Jammeh, National Assembly Member for Foni Bintang, also asked GNLSA about the mobile libraries, saying: "Is the library still in the capacity of expanding libraries to all parts of the country; if not what are the challenges being faced by GNLSA in trying to do that."
He said according to their report, the library needed to be relocated to a safer place, because "where it is located now the environment is not conducive and it is facing a lot of difficulties".
He asked whether they had secured any allocation letter of land at KMC as, according to him, the location was "very good", as it had university and other nearby schools that would have access without having to travel longer distances.
Responding to the comments and questions posed to GNLSA, the board chairman of GNLSA, Babucarr Bouy, said the first land allocated to GNLSA was too small for the library, hence another land was allocated to the library.
He said the land is between GRTS and the Supreme Islamic Council, which should be a "perfect place" for the library because a lot of schools and workplaces are around the area.
On the issue of decentralising the library, Mr Bouy said that expanding the library to other parts of the country was among GNLSA's plans, but they are still working on it to see how best they would be able to expand to other areas within the regions.
He added that they are also working on something where schools would have a gadget and all the syllabi installed for the students, and that there would no need to go to the libraries to read or make research.
Read Other Articles In Article (Archive)