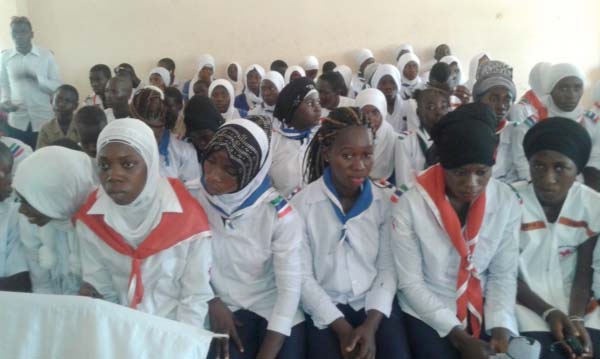 World Red Cross Day was on Sunday observed in Kerewan, north bank region on the theme EVERY WHERE FOR EVERYONE.
The day is observed annually on 8 May by RED CROSS Movement around the world.The day is set aside to reflect on the humanitarian works of the founding fathers of WORLD RED CROSS DAY in serving humanity.
The day aims to raise public awareness on the achievements and challenges of providing humanitarian support to humanity.
Ousman C Jallow, NBR branch officer of Gambia Red Cross Society, delivered a statement on behalf of the secretary general of GRCS and noted that the day is important on the calendar activities of the society.
He said GRCS recognised the efforts of volunteers in serving humanity and reiterated the need for volunteers to operate within the 7 fundamental principles of humanitarian works.
The fundamental principles guiding humanitarian services include impartially, humanity, neutrality, voluntary, universality and unity and must be respected by all humanitarian organisations.
He said International Red Cross and Red Crescent raise the need in assisting and protecting people during armed conflict and situation of violence.
Jallow called on local communities to be vigilant in providing humanitarian response to affected families and individuals.
The theme aimed to support people with hospitality, dignity and humanity.
Ebrima A.M. Bah, regional branch chairperson, said the theme called for concerted efforts of all stakeholders and institutions to support humanitarian responses.
He said GRCS trained communities on disaster risk reduction and messages on early warming to avert the occurrence of disasters.
The chairperson lauded volunteers for their steadfastness in serving humanity in difficult situations.
He said disasters link to climate change remains greatest concern and disclosed that disaster response and resilience building are crucial to strengthen local networks to reinforce humanitarian response.
The chairperson renewed Red Cross call for respect for humanitarian laws to protect the lives of people in difficult situations.
Deputizing for the governor Alieu Barry said there is need for partners and communities to have greater understanding on the work of Red Cross volunteers and the 7 principles of Red Cross with a view to strengthen stakeholders' participation and contribution to intensify resource mobilization at local and national level to response to the growing need of peoples.
He said the celebration included blood donation, visit to health facilities and cleansing exercise. He said safety of staff and volunteers are crucial in humanitarian works and called for all to embrace such move.
He said disasters, health, conflict/crises, building resilience and disaster risk reductions are fundamental in humanitarian response.
Modou Leigh, Area Youth Rep, delivered vote of thanks and called on the general public to serve humanity.
He said sustained engagement is important in ensuring that the concept of 'EVERY WHERE FOR EVERY ONE' all to support in the resource mobilization to enhance humanitarianism
[endif][if gte mso 9]
[endif][if gte mso 10] [endif]
Read Other Articles In Article (Archive)