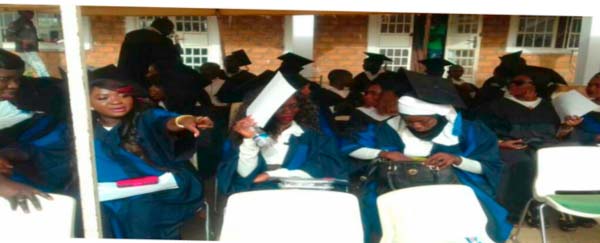 Insight Training Centre on Saturday held it 16th graduation ceremony at its annex in Sinchu Alagie alongside the launching of the solar system sponsored by the PUM Netherlands.

The ceremony also witnessed the laying of the foundation stone for the multi-purpose hall, offices and classrooms, as success stories after 18 years of existence.
The graduates included one hundred and twenty-five students that have completed a diploma in the diverse fields such as human resources, management, electrical installation, architectural draftsmanship, construction and journalism.
Speaking at the ceremony, the principal of Insight Training Centre, Ismaila Ceesay, said as they are celebrating their sixteen graduation ceremony, it was indeed remarkable in the history of Insight Training Centre for registering such achievements, which they are known for.
"Hundred and twenty-five students graduated from different fields and therefore take the opportunity to congratulate them all for successful completion of their courses and implored them to be good ambassadors where ever they might find themselves," he said.
Insight as a training provider was established in August 1999 and managed by Gambians.
Insight Training Centre is geared towards providing quality, affordable and relevant and easy accessible skills training to everyone, especially the youth.
He said Insight could boast of having the most of its graduates either in private or public sector, whilst some are employed and self-employed in skills like electrical, construction, architectural draftsmanship and plumbing.
Dr Cherno Omar Barry, guest speaker on the occasion, said graduation is a time when many contemplate their future and purpose and could be a time of great excitement and worry.
He urged them to always be optimistic, adding that opportunities are open to people who are skillful and Insight Training Centre has been trailblazers in terms of skills and vocational education.
Their skills and entrepreneurship should be embraced and taken seriously for the country's development.
Alieu Dibba, board chairman of Insight Training Centre, said without industrialization there would be no meaningful development.
"We need to improve on innovation in order to build strong nations," he said.
The school administration awarded prizes to the best female and male students.
The prize for the female student was awarded to Halimatou Ceesay, a reporter and columnist on women issues at The Point Newspaper and the best journalism student.
Ousman Dumbuya received the prize for the best male student.
Read Other Articles In Article (Archive)