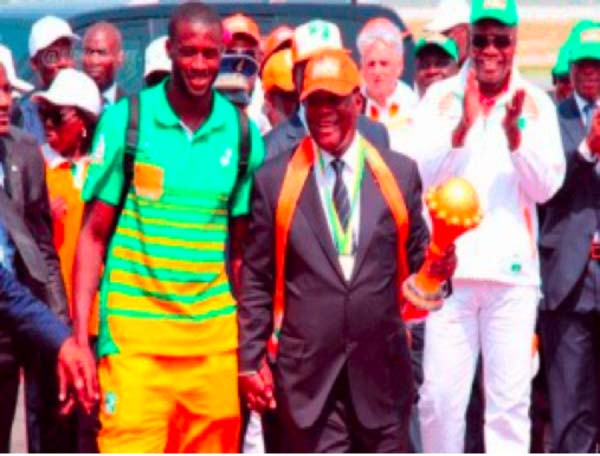 Each of the 23 footballers of Côte d' Ivoire, winners of the African Cup of Nations, received more than 90,000 euros equivalent to 4.8 million dalasis as bonus from Alassane Ouattara, President of Côte d' Ivoire, as said Tuesday by the Ministry of Sports and reported by the Ivorian daily newspaper Faternite Matin.
According to the Sports Minister, Alain Lobognon, French coach Herve Renard received the highest bonus, which was more than 114,000 euros equivalent to (6 million dalasis).
His players were each given a villa worth 46,000 euros and the same amount of cash.
President Alassane Ouattara thanked the players, officials and the coach for the brilliant performance of the team, which helped them to be crowned African Champions by beating Ghana on penalties shootout after 120 minutes goalless draw.
President Ouattara emphasised the sense of national unity aroused by the title, which also moved him to invite the opposition leaders at the State House to grace the occasion.
He further stated that the victory is a good lesson to all Ivorians and "it should make us to foster courage, dedication, unity and solidarity among ourselves."
"The elephants showed us the way to unite and nurture peace to develop Ivory Coast. With solidarity, we will meet the challenge to always win. Sometimes we should joke amongst ourselves and trust each other," Ouattara told the opposition camp in his country.
He continued: "You have managed to rebuild a united and cohesive team that has only one goal: to win and win again. It is a collection of lessons," said the head of state.
"For nearly a quarter century that we were dreaming (the last title in 1992), but now the cup is here. You should double your efforts and work tirelessly to win it again for the next CAN, which will take place in two years' time."
The entire selection of the Ivorian squad was also decorated with the title of Knight of the National Order.
The Toure brothers: Kalu and Yaya, Barry the goalkeeper and Copa Siaka Tiéné already distinguished in the past, were promoted Officers of the National Order, as Fox.
The Ivorian Football Federation also received an amount of 380,000 euros equivalent to 19,440,000 dalasis.
The technical and administrative staff will share 460,000 euros equivalent to 24,840,000 dalasis, making a total of approximately €3 million equivalent to 160,000,000 dalasis offered by the Ivorian head of state.
CAF
The Confederation of African Football (CAF), for their part, gave the Côte d' Ivoire, the winners of AFCON 2015 US$1,500,000; the losers US$1,000,000; semifinalists US$750,000; quarterfinalists US$600,000, and third place winners US$500,000.
Read Other Articles In Article (Archive)