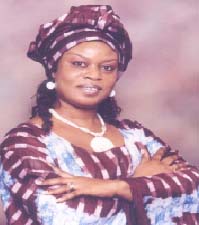 Trendsetting Hair Designer
In today's edition of She She She we brought you an interview with one of the Gambia's most ambitious women, Victoria Tamba. Please read on:
She She She: Can you please introduce yourself?
Vicky: I am Mrs. Victoria Tamba a citizen of Banjul, and attended St. Joseph's Primary and High School. After my O'levels, I went to London for two years to pursue my studies on hair dressing in which I later obtained a diploma and returned home in 1989 and established a hair dressing saloon.
She She She: What inspired you to study hair dressing?
Vicky: Well I used to like hair dressing since my childhood time and being an independent person, I always like fashion and beauty because I believed as a woman, one has to be always decent, neat and look beautiful, as it tells well about you.
She She She: How many employees do you have?
Vicky: Presently I have two employees with me, but also have a skill training centre where I have some trainees there who are doing well in learning the skills.
She She She: When did you establish the skills training centre?
Vicky: Establishing a skill centre had been a dream to me, which came true last year October and it was sponsored by Young Men Christians Association (YMCA) with a batch of thirty students who were all girls and had graduated just recently.
She She She: As a committed business woman, how are you contributing towards development?
Vicky: Well I have done so many voluntary to a different sectors/organisations like sponsoring fashion shows, beauty contestants and I have helped so many school drop outs especially girls by training them in many aspects of fashion and beauty for free of charge.
She She She: Why do you think it was necessary to help drop outs?
Vicky: I believe by helping them is very important as some of them had nothing to do and are not skilled, so it was really necessary to give a help because it can change their lives for better and can also make them to be a responsible women who others can emulate or choose as role models in future. I also agreed to the saying that says if you educate a man you educate an individual, but if you educate a woman you educate a whole nation.
She She She: What are your main aims and objectives?
Vicky: First of all is to see that every young girl being educated or to be at least skilled as it is another strategy of poverty alleviation. I believe if this should be done, women's poverty and other difficulties will be a history.
She She She: What is your opinion towards some women who are educated but prefer not to engage themselves in working, business or other means that can ease a living for them just because they believe their spouses can take care of the family?
Vicky: Well it depend on the man, if he says his wife should not work he will do every thing then that's it good but God forbid if he leaves the job or had accident in that case, things will be difficult for her. So we the women should not take that for granted, it's high time for everyone to struggle.
She She She: As a married person does your business had any thing to affect your marital life?
Vicky: Not at all, and will never affect it because my husband has been very supportive and helpful to me in bringing up my business; he really helped me to realize my dreams.
She She She: What do you train girls about and what do you do in the saloon?
Vicky: I train the girls on hairdressing, manicure, pedicure, practical and theory and also nail fixing. At the saloon we do the same things plus hair cuts and selling of cosmetics.
She She She: What advise will you give to people out there?
Vicky: The only advise I have is that we should know that is not all that glitters are gold; we can earn a better living by acquiring skills. I am a brighter example because I would have been an accountant but instead diverted my career to do fashion and beauty because I intended to do it and am earning a better living likewise many people in this country. We should always try and engage ourselves in something that can tell well about us in the near future.
She She She: Thank you Madam Tamba for sharing you opinion with us.
Vicky: The pleasure is mine.
Read Other Articles In Article (Archive)