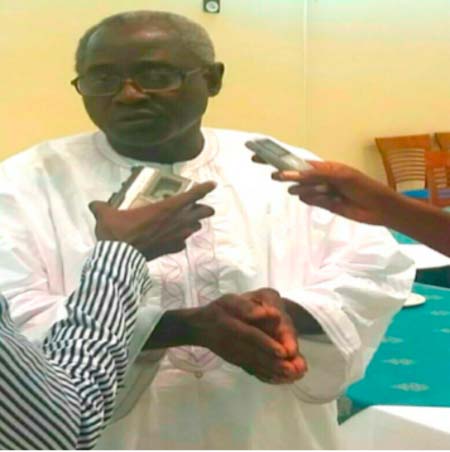 Opposition leaders Wednesday convened a meeting at the Kairaba Beach Hotel to discuss how to strategise and develop a method of getting a candidate who would lead all opposition parties in the December 1 presidential election.

Speaking to journalists shortly after the indoor meeting, Halifa Sallah, who spoke on behalf of PDOIS party, said they must have a purpose and the means as well as the method to achieve the objective.
"We convene the conference of presidential candidates attended by four, but others did send their party representatives to be able to sit down to agree on purpose, agree on means and agree on methods."
He said one thing that everybody agrees on is that 1st December 2016 should usher in the necessary changes in the country.
How that change is going to be brought about would require a candidate who would have 51 per cent or more of the votes cast by the registered voters.
"How do we get that candidate is what we are now strategizing, because if the candidate is not available then we must develop a method of getting the candidate.
"If the candidate is available, then we must identify that candidate for the whole nation to know; but we have not reached the point of identifying the candidate," Sallah added.
Mr Sallah also said: "We have also gone a long way in discussing and exchanging ideas on what method to utilize to get the candidate, and building the recommendation is very clear: we would convene in less than a week."
Also speaking to journalists was Ramzia Diab, who spoke on behalf of Dr Isatou Touray.
Diab said the meeting was held to unify the parties to bring about positive change in the country.
Diab added that she endorsed Dr Isatou Touray because she has seen that she is competent enough to lead the country.
The former nominated Member of the National Assembly said she was part of a political party, which is the APRC, and after she left the party she had been watching what was happening with the opposition parties.
"I have seen that they could have all come together; if they find one common course which I believe they all wanted to happen; but then seeing the failure of NAAD in 2006 and then the failure of the United Front in 2011, it is time to have an independent candidate.
"It is my feeling that a party-led opposition would not be favourable this time around."
Read Other Articles In Article (Archive)