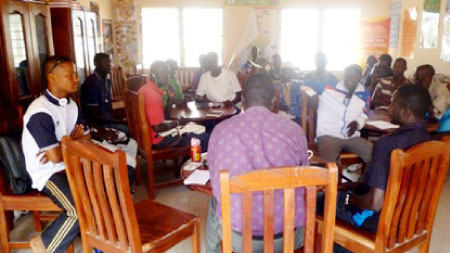 The organizing committee of the annual Daimler programme has held its latest meeting to set the ground for the 7th Edition programme, on Tuesday morning at Serrekunda East with school representatives.
The annual programme brings together more than 10 schools.
The director of The Gambia Olympicafrica Centre, Alfousainey Jarju, said this year's Daimler programme will be widened for inclusive participation of other schools.
According to him, three more lower basic schools and the Olympicafrica Centre will also add to the previous eleven participatory schools, bringing the total to fifteen.
The additional schools are Bakoteh Lower Basic School, New Covenant School and Glory Baptist Lower Basic School.
Mr Jarju said further that the organizing committee previously encountered communication problems with participating school heads; nonetheless they were all happy at the end of the programme.
"However, this time we will overcome those shortfalls as we intend to deal with representatives that are entrusted with their schools' participation in the Daimler programme," he added.
The tournament will be played in a group format, and the two top teams to qualify in each group will play in the next rounds.
A trophy and five balls are at stake for winners, with 4 balls for runners-up. All participating teams will go home with beach balls.
In his concluding remarks, the director said the objective of Daimler is participation, which takes precedence over winning.
"We encourage social integration so that children gather good memories after the programme," Mr Jarju said.
Grouping for the Lower Basic Schools
Group A: New Covenant School,   Bakoteh LBS, Glory Baptist LBS, and Abuko
Group B: Old Jeshwang LBS, Serrekunda LBS, Bakoteh Annex, and Tallinding
Group C: St Charles, Olympicafrica Centre, New Jeshwang, and Bundung
Group D:  St Therese's,   Tallinding LBS, Latrikunda LBS

Grouping for upper basic schools
Group A   Bakau Upper Basic School, St Therese's UBS, Tallinding LBS                                                     
Group B: Olympicafrica Center,   Abuko Upper Basic School, Musa Bun School, Tallinding UBS
Group C   Latrikunda Sabjie UPS, Bakoteh UBS, Kanifing UBS
Group D Latrikunda Upper Basic School, Great Banjul Upper Basic School, 22 July Academy
Read Other Articles In Article (Archive)