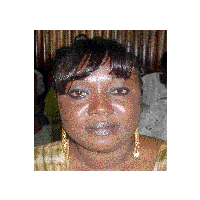 Oley Sey, a former nominated Member of the National Assembly, and Abdou Rahman Bah, co-ordinator of James Junkung Jammeh Memorial Nursery School in Abuko, were on Friday given a mandatory jail term of six months, handed down by the Banjul Magistrates' Court.
The convicts were also fined D25, 000 each in default to serve three months imprisonment. The pair were also ordered to pay D100, 000 each as compensation.
The verdict, which was read by Magistrate Lamin George, follows the convicts being found guilt on charges of conspiracy to commit a felony and stealing.
In his judgement, Magistrate George stated that the convicts, who stood trial on charges of conspiracy to commit a felony and stealing, denied the charges preferred against them. He stated that the prosecution called four witnesses, while the defence for its part gave evidence and the 2nd convict Abdou Rahman Bah called a witness. He went further to relate the evidence adduced by the prosecution witnesses and that of the defence. Presiding Magistrate George said it noted in the evidence that the D500, 000 was handed over to the 2nd convict Abdou Rahman Bah at the presentation ceremony attended bythe 1st convict Oley Sey who facilitated the pledge knowingfull wellthat the money was supposed to be banked on the sameday.
Magistrate Lamin George then asked as to the reason whySey andBah wentto the KMC Mayor'soffice and the State Department of Education whereOley Seyopted to have a private talk with Abdou Rahman Bah. He noted that when the accountability of the D500, 000 was raised, both convicts falsely pretended that the money was in safe hands. He added that it was Oley Sey who delayed revealing the whereabouts of the money until the chief of protocol threatened to send security personnel for their arrest. Oley Sey then disclosed that she has D200, 000 in her car. Magistrate George said in light of this, the prosecution had proven the charge of conspiracy against the convicts. He said the production of D300, 000 which was part of the D500, 000 by the convicts was a clear testimony that they have deprived the owner of his money.
Magistrate George finally stated that the prosecution had proven their case against the convicts on all the counts beyond all reasonable doubt. He subsequently convicted and sentenced them accordingly.
Read Other Articles In Article (Archive)