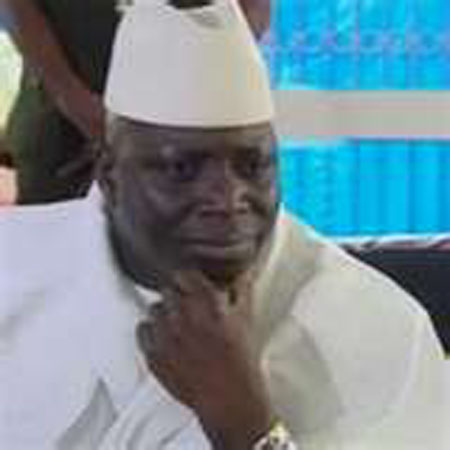 Continuing his dialogue with the people tour amidst rousing welcome in all the regions visited so far, President Jammeh has reaffirmed his government's resolve to transform the wharf in Kaur, Central River Region, into a regional port.
Addressing a mass political rally in Kaur, Upper Saloum, on Wednesday, President Jammeh said the Kaur wharf would be developed to a regional port. "It will be developed to a major port and will be used by both Mali and Burkina Faso," he stated. According to the Gambian leader, a proposed rail route from The Gambia through Burkina Faso to Mali would facilitate the transportation of commodities to and from the proposed port.
The President summed up by assuring the people of Upper Saloum that he would be transforming the area into a well- developed one.
He promised that among the things he would be doing for Kaur is to transform it to become the capital of the area, noting that that would just be the beginning for Kaur.
"It is not by the number that a place becomes a capital, but the facilities," he opined.
Upper Saloum, which has been a stronghold of the opposition National Reconciliation Party (NRP) until of late when the area shifted allegiance to the ruling APRC party, consists of 82 villages.
Speaking earlier, Alhagie Malick Mbye, Chief of Upper Saloum, assured President Jammeh of Upper Saloum's loyalty to him and the APRC.
He explained that initially the people of Upper Saloum had been fooled by the Opposition, adding that Hamat Bah, their former parliamentarian, would never regain his seat. "Hamat Bah has been fooling us and the problem was the infighting within the APRC camp in the area," he added.
Meanwhile, President Jammeh yesterday inaugurated the newly constructed police station in Bansang, which was built by Lawyer Lamin Jobarteh, a private lawyer. The new station, described by many as the most up-to-standard police station in the country, would accommodate all the different security agencies in the country including the NIA, Drug Squad, Traffic Control and Immigration.
The Gambian leader also yesterday donated two hundred and ten bags of rice, two 25-seater mini buses and a cash amount of D100,000.00 to Armitage Senior Secondary School.
He however urged the beneficiaries to heed his back-to-the-land call by establishing their own gardens so as to ensure food self-sufficiency in the school.
President Jammeh and entourage are today expected to visit Koina in the Upper River Region, where he is expected to join in the Friday prayer congregation. From Koina, the President is expected to return to Basse where he would spend the night again.
On Saturday, the President and entourage will depart Basse for Sappo where he will visit the rice fields, fish pond and the co-operative rice milling machine before proceeding to Brikamaba for a meeting.
The Gambian leader will on Sunday visit the Water Complex Facilities in Niamina Pinyai and Katamina.
Read Other Articles In Article (Archive)