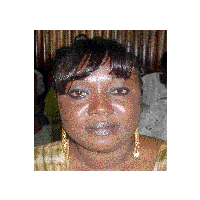 Extra charges might be pressed against the embattled former nominated member of National Assembly Ms Oley Sey following an allegations in court that she has been issuing false cheques to various persons before her arrest.
The allegations were made during her  appearance at the Banjul Magistrates' Court on Monday before Magistrate Lamin George, where she is standing trial alongside one Abdou Rahman Bah for an alleged offence of stealing.
This was disclosed by the prosecutor Cadet Inspector Keita when he was trying to object to defence counsel Lamin Camara's, application for bail on behalf of his client, Oley Sey.
Prosecutor Keita told the court that following her arrest, the police received a series of complaints against her for issuing false cheques.
He adduced that investigations are far from over as maintained by the defense counsel. "So, that would jeopardize the police investigations if she is granted bail," he told the court.
Oley Sey is standing trial, charged with two counts along side Abdou Rahman Bah, Coordinator of Sulayman Junkung Jammeh Nursery School at Abuko, of conspiracy and stealing.
The prosecution's objection was however overruled by the presiding magistrate, Lamin George, adducing that the issue of false cheques was not yet an offence before the courts, and thereby granted the duo bail in the sum of D300, 000.00 with Gambian sureties who must swear to an affidavit of means.
It is being alleged that on 29th July 2008 the duo stole the sum of D500, 000.00, being the money of Sulayman Junkung Jammeh Nursery School at Abuko.
At that juncture the case was adjourned until 4th September 2008 for continuation.
Read Other Articles In Article (Archive)