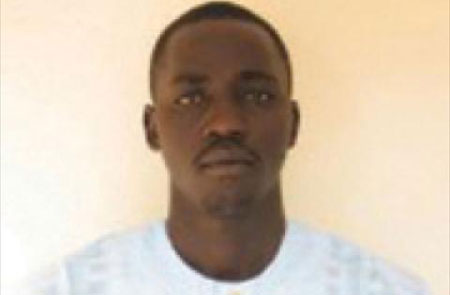 The deputy editor-in-chief of the Daily Observer newspaper was yesterday cross-examined in the voire dire trial, being conducted to ascertain the voluntariness of statements he made to investigators at the NIA.
Alagie Jobe last week told the Special Criminal Court in Banjul that he was subjected to torture by officers of the National Intelligence Agency while under detention at the NIA.
He told the court in a voire dire trial presided over by Justice Emmanuel Nkea that he is a journalist resident in Bundung, but currently lives at Mile 2 Central Prisons.
Editor Jobe was arraigned alongside one Mbye Bittaye at the Special Criminal Court.
He is facing trial on a five-count charge of making an act with seditious intention, seditious publication, and possession of seditious publication, giving false information to public servant, and reckless and negligent, while Mbye Bittaye was arraigned on a single count of making preparation to do act with seditious intention.
Under cross examination, Editor Jobe told the court that he was born in Njoben village in the Central River Region (CRR), and his mother's name is Kaddy Jobe, who also lives in the same village.
 "I attended Njoben Primary School, and from there I went to Brikamaba Junior Secondary School, in CRR, and to Tahir Senior Secondary School, in the Lover River Region (LRR), respectively.
Asked by the state counsel what was his level of education, Jobe told the court that after graduating from high school, he also did professional training relating to his work.
Jobe added that he had spent 13 years working with the Observer newspaper, and had worked with many managing directors, such as Sheriff Bojang, Dr Saja Taal, Modou Sanyang, Dida Hallake, Neneh Macdoll Gaye, and Pa Malick Faye.
He further told the court that the day he was arrested was not a working day, which was a Friday, adding that on Thursday he closed work after the paper was done and went straight to bed.
"I cannot tell that the day the President was coming back from his trip was the day I was arrested," he said, adding that he never went to the NIA office prior to his arrest.
Still under cross-examination, editor Jobe said: "I was escorted by two NIA officers to the conference hall, but I did not know how many officers were present in the room at the time I was entering the hall, because the hall was dark."
Asked by the state counsel what he saw in the hall, Jobe said he saw seats and tables in the conference hall, adding that many officers were present in the conference hall when he was being subjected to torture.
"My statements were obtained on different days. I wrote the first part of my statement on 11 February 2013. They backdated all my three statements. I rewrote the statements from the notepad. What I wrote was what they wanted, and not what I wanted to write," said editor Jobe.
He added that he was present when the officers were writing on the notepad.
"I was sitting talking while they were writing and one of the officers was holding a mobile phone with a torchlight in the night," Jobe stated.
Editor Jobe said that he did not know any Alasana Sallah, but admitted knowing one Madikhan Jobarteh and Mariama Danjo.
He pointed out that he did not assign any of his juniors to go and cover the arrival of the President.
"After inflicting torture on me, I was first taken to the military hospital along Marina Parade. I was referred to the Edward Francis Small Teaching Hospital where an x-ray scan was conducted on me," Jobe narrated.
He added that he could not remember when he first met the 2nd accused, Mbye Bittaye.
Jobe refuted the allegation that Madikhan never told him that he (Madikhan) wanted him (Jobe) to publish a story for someone who resides in the United States of America, for the person to have papers in America.
"I was arrested at Tallinding Churchill's Town GALP Junction around 11 at night, with a friend," he said, adding that PW1, Jawurr Keita, was present at the time of recording his statements, and that the place was dark and he could not recognised many people.
He added that he did not complain to the OC NIA that he was tortured, further stating that the torture inflicted on him was not directed by the state.
"I was severely tortured for two complete nights. I never said I did not know Assan Sallah. I said I did not know Alasana Sallah. I have undergone severe torture," Jobe told the court.
The case continues on 19 February 2013, for address.  
Read Other Articles In Article (Archive)