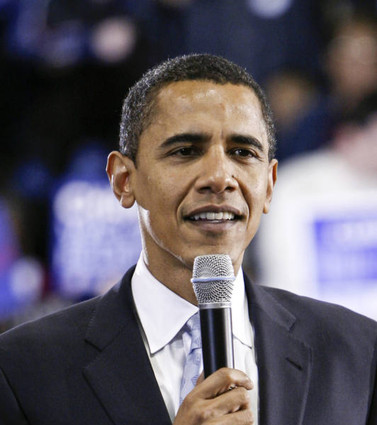 The World's eyes are today focused on the
United States of America
as Barack Obama takes oath of office as the 44th president of the world's biggest Democracy. The historic event that will attract attention from all parts of the world is expected to be witnessed by millions in the
United States
whilst several television channels show a live coverage of the event. Already Obama's brother in
Kenya
has flown to the
United States
last week to be part of those dignitaries to attend the ceremony. Since his defeat of his republican adversary, Senator John MacCain, in the last November polls, Obama has been busy as he forms his team that will run the future affairs of the
United States
. However for Barack Obama rivalry in politics does not mean creation of enemies or enemity. Media reports have shown Mr. Obama meeting with John MacCain as they discuss issues that many have considered to be crucial matters affecting
America
: issues ranging from housing to unemployment to
Iraq
and
Afghanistan
and especially the recession and economic depression, among other issues. Also Obama has since appointed his former Democratic running mate Hilary Clinton as his Secretary of State, which is an important development given Mrs Clinton's wealth of experience and the advantage ofkeeping the Democratic Party and the government and the Nation intact and united in the face of all the formidable problems confronting the
United States
. But for many who are monitoring events not only in the United States, but in the world at large, Obama's assuming power has come at a time when the world is grappling with global financial crises coupled with wars the latest being Israel and Palestine.He being an African-American, the Continent of Africa will perhaps look up to the Obama presidency in tackling some of the major issues affecting them, namely wars (rebellions), diseases and above all the economic status of Africa with regards to donor lending and borrowing.
It is worthwhile mentioning that the Democratic Party invited Gambia's former president, Sir Dawda Kairaba Jawara, to attend the Democratic Convention some time last August in Denver (Colorado).
Sir Dawda who honoured the invitation flew into the U.S accompanied by Lady Njaimeh Jawara.
Meanwhile the United States Embassy Banjul Office will this evening mark a celebration in honor of the swearing in of Obama at a reception to be held at the Ambassador's residence in Fajara. President Obama is wished a very successful tenure of Office despite the plethora of difficult problems he will inherit.
Read Other Articles In Article (Archive)