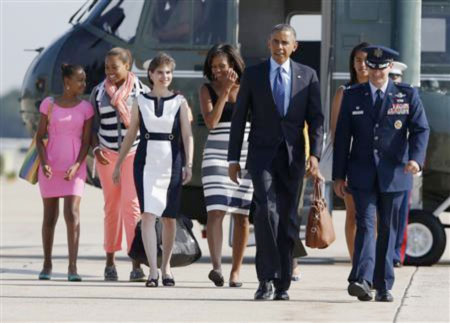 US President Barack Obama landed in Senegal on Wednesday to begin a long awaited first major tour of Africa with the world preparing to bid a reluctant farewell to Nelson Mandela.
The possibility that the critically ill anti-apartheid icon could fade away within days has sparked uncertainty about Obama's itinerary.
Plans to visit Senegal, South Africa and Tanzania over the next week could be complicated, shifting the focus of a trip meant to ease the disappointment of Africans who saw expectations for Obama's presidency fall short.
The White House has said that it will defer to Mandela's family on whether the president would visit his ailing 94-year-old political hero in the Pretoria hospital where he has been for nearly three weeks.
And it has refused to say exactly what contingency plans are in place for the week-long trip, designed to highlight Africa's emerging economic potential and growing middle class, as well as youth and health programs.
South Africa's foreign minister Maite Nkoana-Mashabane said that while Obama would have loved to see Mandela, a meeting with the former South African leader would be impossible.
The men met in 2005, when the former South African president was in Washington, and Obama was a newly elected senator, and the two have spoken several times since by telephone.
But there has been no face-to-face meeting between the first black presidents of the United States and South Africa since Obama was elected in 2008.
Obama stepped off the plane with the First Lady, Michelle Obama followed by his daughters Malia and Sasha and his mother-in-law Marian Robinson.
Also there was his niece Leslie Robinson.
He was greeted at the foot of the steps of Air Force One by Senegal President Macky Sall and First Lady Marieme Sall, as well as United States Ambassador to Senegal Lewis Lukens and members of President Sall's cabinet.
The White House sees Obama's visit as a chance to make up for lost time, as the president was unable to fit in a visit to sub-Saharan Africa in his first term, apart from a brief stop in Ghana.
There has also been disappointment on the continent, after Obama's 2008 election caused euphoria and an expectation that the son of a Kenyan would put Africa policy at the top of his agenda.
Obama hardly dampened expectations, declaring in Ghana in 2009: "I have the blood of Africa within me, and my family's own story encompasses both the tragedies and triumphs of the larger African story."
The current US president also travels in the shadow of his predecessors, Bill Clinton and George W. Bush, who are remembered fondly for their economic development and HIV/AIDS programs.
US Africa policy has languished in recent years, with Obama battling an economic crisis, rebalancing US attention to a rising Asia, facing revolution in the Middle East and consumed by his legacy project of ending US wars abroad.
US officials are aware that emerging economic opportunities and energy resources in Africa have attracted a clutch of interest from rising rivals.
Washington noticed that new Chinese President Xi Jinping professed a "sincere friendship" with Africa when he visited the continent on his first foreign tour, part of a Chinese economic and diplomatic offensive.
There is one glaring missing stop on Obama's itinerary: Kenya.
Officials said that the indictment of Kenyan President Uhuru Kenyatta at the International Criminal Court in The Hague, over previous election violence, made it politically impossible for Obama to stop by on this tour.
The president will meet Macky Sall in Dakar on Thursday and pay an emotive visit to Goree Island and a museum and memorial to Africans caught up in the slave trade.
The president will be joined on Goree by his wife, who will go to the all-girls Martin Luther King Middle School with her Senegalese counterpart.
"Africa has an extraordinarily large youth population, and it's important for the United States to signal our commitment to investing in the future of African youth," Ben Rhodes, a deputy national security adviser, told reporters ahead of the visit.
Obama is due to move on to South Africa on Friday for a weekend of talks and events, including a news conference with President Jacob Zuma in Pretoria.
He is scheduled to hold a town hall meeting with young Africans at the Soweto campus of the University of Johannesburg.
Then, Obama will head to Cape Town where his events include a visit to Mandela's jail cell on Robben Island and a roundtable with business leaders that will include senior members of the president's economic team.
The final leg of Obama's journey will take him to Tanzania, where his program includes talks and a news conference with President Jakaya Kikwete and a visit to the Ubungo power plant.
He will also lay a wreath at a memorial to 11 people killed in a US embassy bombing in 1998.
Read Other Articles In Article (Archive)