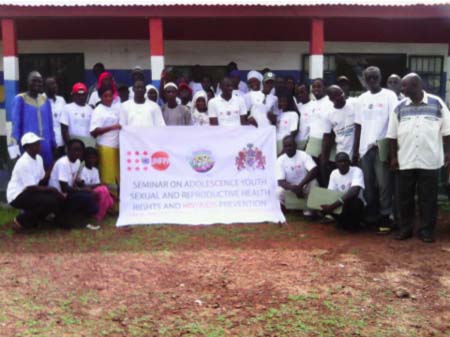 The National Youth Council (NYC) has started a training course for youths in the Lower River Region on Reproductive Health and HIV/AIDS Prevention, in response to dealing with the high prevalence of AIDS in the region compared to other areas.
The first seminar held at the Youth Centre at Jarra Pakalinding village was attended by thirty-five youths, from the three districts of Kiang West, Central and East on Saturday, in collaboration with the UNFPA.
The second seminar is expected to be held a week later, for the youths of Jarra West, Central and East.
In his speech at the seminar, Lamin M. Jarju, programme officer of the National Youth Council, said the meeting was meant to encourage young people to take up the reproductive health services that are available in their communities.
The participants, he said, were tasked to share the knowledge with the people they represent.
He said that through their sensitization campaign, they would work hard to see that the host region registers zero new cases by the next HIV/AIDS survey.
Saikou M. Jobe, sports coordinator at the Department of Planning and Programmes under the Ministry of Youth and Sports, saw the seminar as a mitigating exercise to counter the spread of HIV among youths.
He assured them of his ministry's backing in their struggle to protect the youth-folk.
Landing B. Sanneh, general manager of National Enterprise Development Initiative (NEDI), said besides asking the youths to perform their duties on improving the health of the people in the region, the exercise was a moment of connecting the participants with key stakeholders in the development of their districts.
He recognised the potentials and energy in the group, which could be utilised to upgrade the standard of living for the people of the region.
Saikou M. Darboe, Lower Regional Youth chairman-elect, assured the meeting of the commitment of the youths of his region in the development crusade.
He thanked the organisers and partners for the first training course, while looking forward to having a replica of that success story with the training of the second batch.
The chairman of the Mansakonko Area Council, Fabakary Sanneh, closed the meeting with recognition of the initiative as a suitable measure to complement the efforts of the Gambia government in providing good health to the people.
He enjoined the youths to open a routine discourse on reproductive health issues and HIV/AIDS in their basements at all domestic levels, while assuring them of his council's support when necessary.
Read Other Articles In Article (Archive)