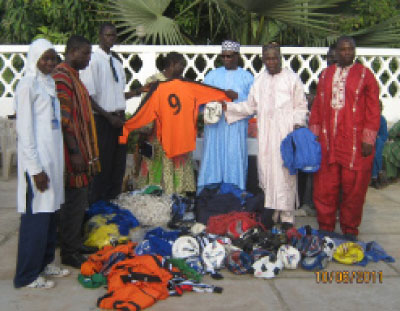 Karamo S. Bojang, the Principal of Nusrat Senior Secondary School who also doubles as Alkalo of Tujereng village over the weekend distributed sporting materials worth about D442,985.00 to four youth groups. The materials were collected from donors, well-wishers and friends of the Gambia in the town of Plymouth in United Kingdom.
Speaking at the presentation ceremony held at Tujereng village in the Kombo south, Alkalo Bojang commended the donors for what he described as "their kind gestures," noting that the materials donated will go a long way in supporting national development efforts.
"Sports in general and football in particular is very popular nowadays, progress in it is progress for a large section of society. We should all therefore, do whatever we can to support this endeavour," he said.
"The importance of sport in the lives of young people is precious; in fact it goes much further than the basic answer that 'it keeps our bodies healthy.'  "Sports play a pivotal role in the makeup of a young people particularly the health aspect. And football is one of those sporting events that are as important as it is common today."
Principal Bojang narrated that it was during his trip to Plymouth to pursue a master's degree there he met the benefactors. According to him, the Scott family arranged with a journalist, who ran an article for sponsorship in a local newspaper. He noted that few moments after the story was published, generous people were calling from different parts of the city who expressed their interest in assisting. He revealed that in a matter of few days, "donations were coming from all ends." I could not ferry down all the materials donated," he explained.
Mr Bojang went further to challenge the youth to emulate what he described as the 'good gestures of the people of Plymouth.' He called on all the beneficiaries to make the maximum use of the items and take good care of them.
Speaking on behalf of the Chairperson of the Village Development Committee of Tujereng, Mr Ba Ensa Jawara commended Karamo S. Bojang for what he noted as "the love he has for the people of his village and the Gambia as a whole."  Mr Omar Jammeh and Lamin Jallow who both spoke on behalf of the beneficiaries expressed their gratitude to the benefactors and assured that "the donated materials will be put into good use."
The presentation ceremony was punctuated with live performance of cultural groups showering praises on the benefactors and advising the beneficiaries.
Read Other Articles In Article (Archive)