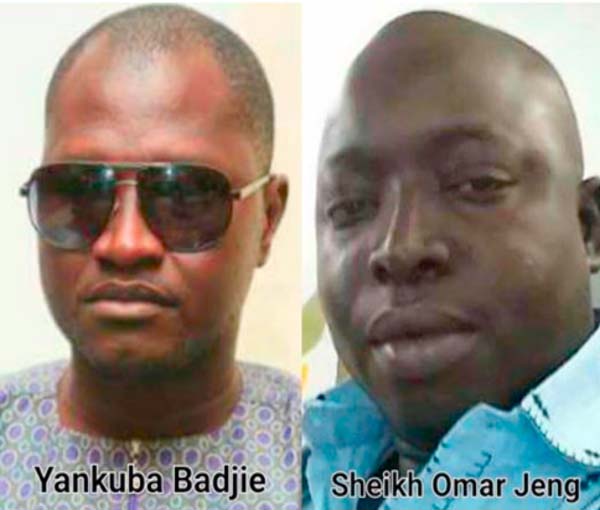 The criminal trial involving the state against the former NIA boss, Yankuba Badjie and eight others could not proceed yesterday before Justice Kumba Sillah-Camara of the High Court in Banjul.

The other accused persons are Louie Richards Leese Gomez, Saihou Omar Jeng, Babucarr Sallah, Yusupha Jammeh, Haruna Susso, Tamba Mansary, Lamin Darboe and Lamin Lang Sanyang.
They are standing on multiple charges including conspiracy to murder, murder, conspiracy to commit misdemeanor, assault causing actual bodily harm, forgery, making false documents without lawful authority.
The prosecution led by the Deputy Director of Public Prosecution (DDPP) had opened the prosecution case on Monday 8 April 2017 and called two witnesses who testified and were cross-examined by the defence team.
During yesterday session when the court was expecting the prosecution to call their 3rd prosecution witness to testify before the court as promised but rather he informed the court that the prosecution was constrained by intervening circumstances.
He disclosed that the Attorney General and Minister of Justice was carrying out a reorganisation in respect of the conduct of the case.
He said that it involves other counsel joining or taking over the conduct of the case and, as a result, it would require time to study the case file.
Lawyer M.B. Abubacarr urged the court to grant the state an adjournment to enable them study the case file for diligence prosecution of the case.
Lawyer Moses B.J. Richards, the defence counsel for the 3rd accused Saihou Omar Jeng, argued that he was not against the state application for an adjournment.
He intimated to the court that the Attorney General once said he needed time to study the case file but urged the presiding Judge to grant bail to the accused persons at this junction.
for his part, Lawyer E. Gomez, defence counsel for the 2nd accused person, Louie Richards Leese Gomez, said he was not objecting to the application made by the state to grant an adjournment but cited section 24 of the 1997 constitution that it guarantees all the accused persons fundamental right and freedom.
He urged the court to be mindful of the fact that the adjournment might mitigate the right of the accused persons under section 24 of 1997 constitution.
Lawyer C.E. Mene, defence counsel for the 1st accused, Yankuba Badjie, argued that under the provisions of the criminal procedure code, bail could not be granted but the CPC is a subsidiary of the constitution which is the supreme law of the land and that under section 19 (5) bail could be granted.
At this point, the presiding judge intervened and pointed out that the accused persons are not under such circumstances as indicated under section 19(5) of the constitution.
She indicated that the case had been moving steadily.
She then adjourned the matter until 15 May 2017, for mention and 22 May 2017, for further hearing.
Read Other Articles In Article (Archive)