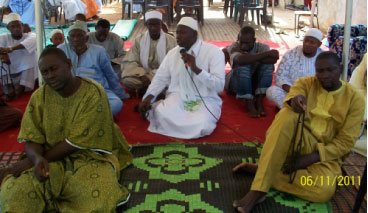 Sheikh Imam Babucarr Jawara Muhadam of Mam Cherno on 11 June held an Islamic conference at his residence in Dippa Kunda, Serrekunda.
He called upon all Muslims to always pray for other Muslims and the nation at large.
The followers of the Islamic faith at the occasion made supplications reciting Astagfirullah forty-five thousand times, Hasbuna-Allahu Wa Nehmal Wakilu forty-five thousand times and Ya-Salamu one hundred thousand times.
Speaking at the conference, Imam Jawara said the supplications were intended to promote peace and stability in the country.
"Since we are approaching the raining season we pray that all the farmers have bumper harvest within their various regions and  we also pray so that God will minimize road accidents," he said.
He advised all Muslims to work hard as well as make constant prayers, because there are lots of things that distract the intention of people from remembering Allah, such as the excessive love for wealth "forgetting that the world is temporal".
In conclusion, he said, they also prayed for President Jammeh so that Allah will guide him in steering the affairs of the nation, as well as for civil servants, businessmen, the children and people of The Gambia. He also thanked profoundly the Muslims who attended the conference.
Read Other Articles In Article (Archive)