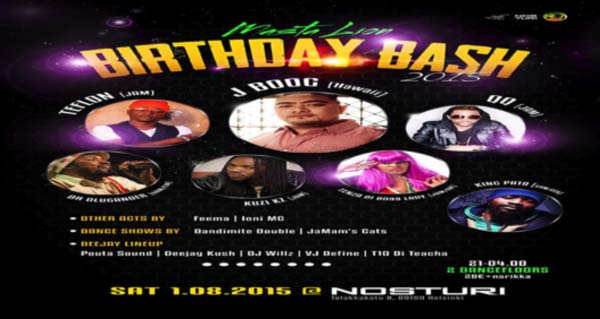 Deejay Masta Lion, a Gambian based in Finland, will hold a birthday Bash party, which is expected to feature international artistes on 1st August at Nosturi in Finland.
It is an annual event the disc jockey uses to entertain music lovers across the globe, and artistes lined up are Dr.Olugander, Gambia, Telefon, Jamaica, J BOOG, Hawaii, QQ, Jamaica, King Pata, Gambia and Tenza Di Boss Lady, Jamaica/UK. DJ's line-up is Pouta Sound, DJ Kush, DJ Willz, VJ Define and T10 Di Teacha.
According to the organisers, the Mastalion dance show will be also done there by Dandimite double, JaMam's cats
About Masta Lion
Lamin Touray aka Masta Lion, is unquestionably one of Gambia's most talented DJs in Europe. Born and brought up in Brikama, his interest in the turntable started at a very young age.
"Things were hard and I had no idea what to do. So I decided to try deejaying. I bought my own equipment and was playing at street parties and fashion shows in Brikama and the surrounding villages. I was also following the Jah Lion Sound and they contributed in making me a better Deejay, said Masta Lion.
In 2003, he moved to Finland to search for better opportunities. Having got his start as a DJ, playing in The Gambia, Masta Lion's big break came when he was invited by Finland Pouta Sound to join them during some of their events.
Apart from his musical engagement, Masta Lion is an active member of the Gambian community in Helsinki. He is also known for supporting his colleagues, in the music business, to organize events for international reggae artistes.
His organization, Masta Lion Promotion, is now registered in Finland, dealing with artistes like Morgan, Turbulence, Tenza Di Boss Lady Turbulence, Warrior King, Chronix, Njie B, Dr.Olugander, Benjamin and others
He is the CEO of 24/7 Lion Sound in The Gambia and Masta Lion Foundation for Education, under which he holds charity concerts to sponsor numerous students in The Gambia
Read Other Articles In Article (Archive)