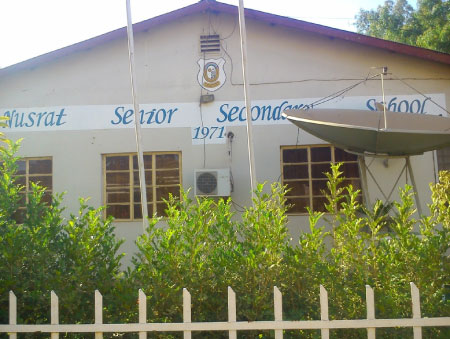 Former students of Nusrat Senior Secondary School recently converged at Nusrat High School to form an association, called Nusrat Ex-Students Association (NESSA).
The association runs with the motto: "He who purifies himself shall prosper," seeks to bring together all the ex-students of one of the country's best schools.
The association is aimed at promoting students' general welfare by creating a vibrant association which can actively bring all ex-students of Nusrat Senior Secondary School to participate in academic and cultural issues of the school, which are of interest to its members and humanity in general.
The objectives of the association include safeguarding the educational process of the school, encourage amicable relationship between its members and current students of the school, encourage positive dialogue with appropriate authorities whenever the need arises and to enable the ex-students of the school to speak with a single voice on major issues.
The association also aims to extend humanitarian assistance to needy students or groups where possible and to encourage and inculcate attitudes and values worthy of emulation in students.
In his inaugural speech, the newly-elected President of the association, Muhammed L. Sanyang expressed delight at his nomination as the first President of NESA.
He outlined that his main priority areas would include instituting a scholarship scheme and charitable endeavours.
Sarnyang outlined that he would help in educating the needy students as he assured them of their commitment in aiding the school administration in awarding prizes to deserving students.
He finally called on all members to be committed to the cause and then pointed out that the executive alone cannot move the association forward.
"We are calling on all ex-students of Nusrat to come and register with the association in order to contribute our quota towards the development of our beloved school," he concluded.
Meanwhile, the new executive members include Muhammed L. Sarnyang as President, Sheriff Bah; Vice-President, Saikou Suwareh Jabai; Public Relations Officer, Isatou Juwara; Assistant Public Relations Officer, and Kawsu Fatty; Social Secretary.
In the same vein, Lamin Ceesay was also elected as Assistant Treasurer and other members of the executive include Mariama Leigh.
Some key positions remain vacant as of now, such as Secretary-General, assistant Secretary-General and Auditor.
Meanwhile, all interested former students of the school can reach the President of the association on 3024268 or the Assistant Treasurer on 3820110.
Read Other Articles In Article (Archive)