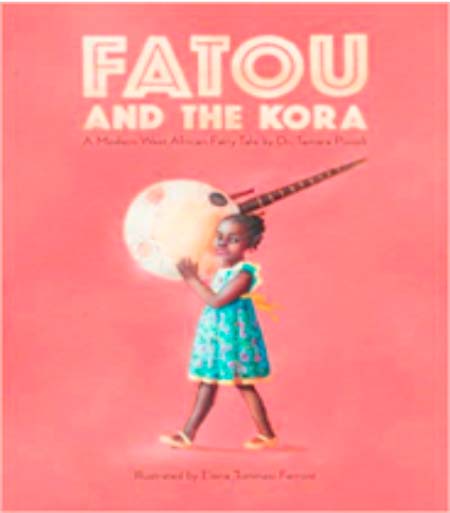 (Friday 18 October 2019 Issue)

This brightly coloured and cheerful picture book tells the story of what happens when Fatou, daughter of the tailor in a Gambian village, sets off to fetch water for the evening meal. As she goes she is waylaid by various friends who have gifts and messages for Fatou to take for her mother. As the gifts pile up in Fatou's arms, and the messages for her mother crowd her head Fatou, somehow, forgets to get any water!

Fatou has a lovely bright smile, and the crowded pictures give a real flavour of village life in The Gambia. There are lots of colourful fabrics to see, and fun things to look at on Fatou's way to the well. I liked the repetition of everyone calling out Fatou's name to attract her attention and give her another gift in return for some favour her mother has done for them. Each call is different in some way, and the text increases in size encouraging the reader to really shout out FATOU!

Fatou is a simple, heartening story set in a vividly depicted rural environment. The rhythm of the narrative, with its richly modulated refrain of gratitude and gift-giving, each repetition involving a new, colourful garment and foodstuff, proved a real delight to the young readers who shared this book. A reassuring read - we have all made mistakes in life, adults and children alike, and there is always a way to put them right. The story is charming and warm, having at its heart lessons about giving and receiving. It finishes on a high note of humour when after a wonderful feast using ingredients from the unexpected collection, the family need yet more water and wonder who to send to fetch it this time.

This book is a wonderful journey with amazing illustrations. The pictures are alive with colour and a strong sense of life in a Gambian village. It is entertaining and vividly educational without effort.

One Plastic Bag: Isatou Ceesay and the recycling women of the Gambia

Another gorgeously illustrated book which tells the inspiring story of five women who creatively dealt with their village's plastic trash problem. Despite limited resources and ridicule, Isatou and her friends persevered for more than a decade, eventually realising economic empowerment through their recycled plastic purse project. The book also includes bonus information such as a Wolof language glossary, timeline of actual events, and photos of the women of Njau. This beautiful story shows how one person's actions can make a difference in the world.

Mangoes and Monkey Bread by Emily Joof

Ella and Louis have just arrived in The Gambia for their winter holidays. Settling at home, Louis is already missing sweet strawberries from Stockholm. So Ella takes her brother on a yummy fruit tasting tour and they discover fruits native to West Africa, not just mango, but kabba, koni, solomsolom, and many others. Illustrated with gorgeous drawings as well as photos of the fruits themselves taken by Lena Nian.

This is a light-hearted journey of discovery with beautiful illustrations and photographs and it reminds us all of the joys of local fruits in childhood.

Fatou and the Kora

This is a modern West African fairy tale set in Dakar. Fatou flouts convention and starts to learn to play the kora, in spite of her father saying that was not the tradition for girls to play. She practises every afternoon while her father is having a nap, and eventually her father finds her playing the most beautiful music and believes she is an angel in the form of his daughter. When he realises it is in fact his daughter playing he tries to forbid her from playing, but she tells him it is her gift and with the help of the butterflies and the fairies he recognises that this is the truth.

This is another book full of beautiful images and colours, with touches of magical and spiritual thinking. The story challenges some old traditions about the role of young women in griot families and reminds us of the power of music.
Read Other Articles In Article (Archive)