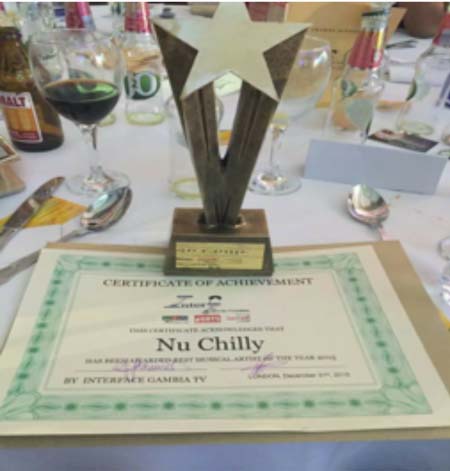 (Friday, 8 January 2016 Issue)
Nu Chilly Rise, a UK-based Gambian reggae dancehall artiste, has won 'Artist of the Year 2015' by Interface Gambia TV Award in England recently.
"In its third edition of the awards to deserving Gambians in lucrative enterprise, but to inspire people, promote businesses and "support our own" throughout their ventures in the UK and Abroad; we aim to honour entrepreneurship and those who serve as role models to the younger generations within our communities.
"Interface Gambia TV brings you the latest shows and programmes on Television, celebrating The Gambia.
"With close to sixty thousand Gambians in Diaspora in the United Kingdom, the big question is how do they stay connected with their motherland or, more importantly, how can their motherland keep connected with them?
The Gambian with a vast wealth of both human and natural resources to showcase to the world both in the United Kingdom and at (home), Interface Gambia aims to bridge the gap by targeting a global audience, while promoting Gambian culture and educating the younger generation by highlighting positive trends within the community.
Find out what our young Entrepreneurs, Senegambians Culture, Events and religious chat shows live on BEN TV every Friday From 11pm, Saturday Mamos TV From 9pm and Sunday afternoon on GRTS.
About Nu Chilly
Nu Chilly, born Wally Bobb, started his music career by singing with local drumming groups in Gambia from a young age.
He joined a group called Roots Calypso, where he sang lead vocal for 5 years before deciding to travel to Europe in 1995 to further his career.
He later met members of the Suns of Light who motivated him to produce music with the passion he is known for today.
He then studied Music Basic Knowledge at The Hi-tech Sunland Music School, an endeavour that greatly helped him with his quest.
Becoming an international force with PROMOTION all over Europe, he worked with the "Movement" for a compilation in 2004 in the United Kingdom.
It was with the movement that Nu Chilly released his debut single, "Nu Chilly Rise".
The hit took Gambia by storm, with its memorising beat travelling off-shore out of Gambia to Europe and the UK.
The track, which would go on to be featured on the 18 track album "By the Rivers of Gambia (2012)", resulted in Nu Chilly still having the spirit of working with Hakim of the Suns of Light (the producer of Akon's Mama Africa).
Alongside Hakim, Nu Chilly teamed with Culture Brown (Love is What the Children Want) and Chuck Fenda (Nu Chilly Rise Remix) to produce the formerly mentioned debut album that seeped through the vines of the Gambian Reggae scene on to the international stage.
"Nu Chilly Rise" shot further up in fame with the release of its video, directed by Yankuba Jarju of Amics Digital, in his convex emblem.
Nu Chilly now resides in the UK, where he has now began to have lots of Radio Air play; where PROMOTION on "By the Rivers of Gambia" has seen him work internationally with a large variety of other well-known artistes, creating a firm and loyal fan base.
After extensive touring in 2011 of Holland, Germany, the UK and Austria, he finally reached his home of The Gambia, where he was met with overwhelming support from the media.
Nu Chilly is a Gambia home-grown and UK-based artiste, but he never stopped with his work and passion as an artiste.
Nu Chilly is enjoying his time spent on working on his upcoming album "I Offer You Love".
The title track of the album, that featured Hakim, was released in March of 2013.
The thoughtful and contemplative track followed its equally as moving predecessor, "Cut Off For Life (December, 2012)", the first single of the album, dealing with the harrowing realities of family troubles.
Following the first two singles, Nu Chilly refused to keep his fan base waiting for more, and gave them the soulful "Princess" in September of 2013… Only to succeed it in March of 2014 with the upbeat, uplifting and moving single, Mama Remix, that featured UK artiste Queen Sharon.
Nu Chilly toured in the summer of 2014 Austria, Germany and Scotland, Wales, New Castle, London throughout the summer, PROMOTING his upcoming second album and performing music from both of his albums.
As of 2014, Nu Chilly is looking to further his reach in the reggae scene, and has openly said that he is willing to work with other record labels and producers anywhere around the world.
Nu Chilly is fluent in Swedish, German and English, and he can speak French and Norwegian to a reasonable standard.
The singer and performance artiste also writes his own lyrics. Nu Chilly is also one of the artistes involved in part of Africa Rise Music 4charity CD SAMPLER to set up a milestone for Reggae Music worldwide, including other Big names like The Mighty Diamonds (JA), Kaya (CAP VERDE), The Blackstones (JA), Junior Dread (BRAZIL), Ky-Enie (JA), IzaRebell (NY), Chuckle Berry (JA), Tamika (GER/US)), Shocking Murray (JA), King Kong (JA), Nu Chilly (UK/GAMBIA), Doolay (Sengeal) Anthony B (JA), Luciano (JA), Elephant Man (JA), Carol Brown ft. Lord SassFarass (JA), Beenie Man (JA), Macka B (JA/UK), and Romain Virgo (JA).
Read Other Articles In Article (Archive)