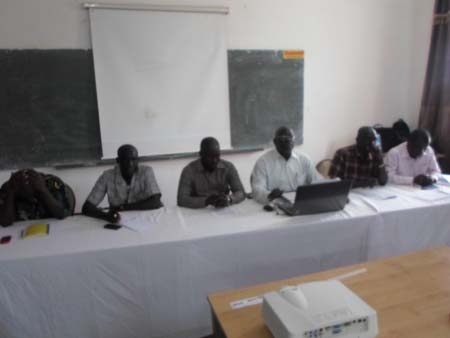 The National Training Authority (NTA) Tuesday commenced a five-day training workshop on assessment at the GTTI conference hall.
The NTA is responsible for the assessment, regulating and registering all TVET institutions in the country, and the aim of the training session was to ensure that people are assessed and competent enough to be able to deliver.
Speaking at the opening of the workshop, Anthony Mendy, the principal higher education officer at the ministry of Higher Education, said the five-day training session was specifically to give the participants an insight into verification guides and code of conduct, to equip them build their capacity in the execution of their duties as assessors.
He added that their role as external moderators was crucial to the continued implementation of the components of the Gambia skills qualifications framework regarded as one of Africa's best policy documents for TVET bringing with it best practices for quality assurance practices and procedures.
He said the training course was part of a series conducted intermittently in the past five years, in which some 120 assessors have been trained, with a success rate of 60 percent, following up on portfolio building and licensing by the registration and accreditation body.
He tasked the participants to break all barriers by accepting the pace for a 100 percent success competition rate for the first time.
Mendy reminded the NTA that in success there are challenges to overcome, and tasked them to widen the scope of such training workshops to other regions.
Edirissa Kolley, officer in charge of the NTA, said the session was on the instruments on assessment training for the Gambia skills qualification framework, and it was fitting that they put them through the exercise, so that when it comes to the actual implementation of the exercise they would do justice to the qualification.
He added that the qualification assessment was based on competence, and it could not do without the proper assessment of the candidate so as to see whether he or she was competent in what was expected of him or her before any certification could be given.
The NTA could not do it all alone, and needs people to implement on the ground. As a result, it was important to call upon the participants as lecturers and partners in the exercise to have a take on the whole exercise, so that at the end of the day people are assessed and competent to be able to deliver.
Lamin B. Manneh, the assessment and certification specialist at NTA, said this was an ongoing process for his unit as part of the implementation process of the Gambia Skills Qualifications programme.
He said without having assessors they could not expand on the programme, and that before any institution comes on the programme, there should be assessors establish in the centre in order to be able to coordinate the assessment process and execute it as planned. 
Read Other Articles In Article (Archive)