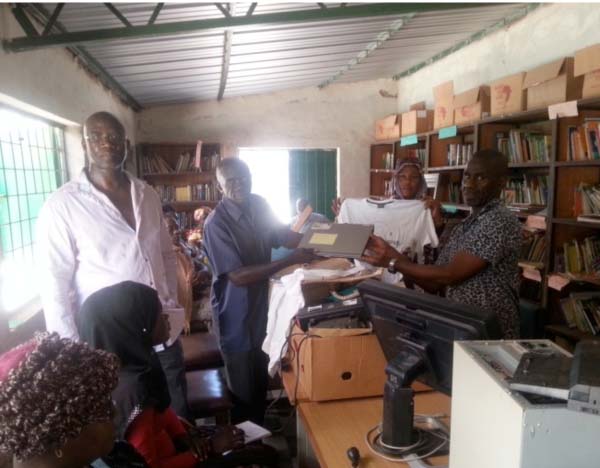 (Friday, 8 January 2016 Issue)
Action Gambia Aid, a Norway-based Gambian organisation, yesterday presented school materials to Muhammedan Lower Basic and Crab Island Upper Basic schools in Banjul.
The donated materials included clothes, desktop computers, printing machines, toilet seats, books and cash.
Alagie Jobarteh, the brain behind organisation, said Action Gambia Aid has been helping schools in the Greater Banjul Area over the past few years.
He said helping schools is a tradition for the organisation, because investing in education is developing a country as education is the most important thing in the world.
Samba Njie, a member of Action Gambia Aid, said they do not only help only schools, but also help with the drainage system so as to reduce the incidence of malaria in the Greater Banjul Area.
"This is something we intend to continue doing," he said.
Alagie Cham, headmaster of Muhammedan school, hailed Action Gambia Aid for "the kind gesture", and said the organisation has been supporting the school in the past years and that has about brought some positive developments in the school.
"It is not only Muhammedan School you are giving support to, but the entire Gambia," he said. "Your support is a clear demonstration of your concern and love for Gambian children. It is also a manifestation of your readiness and preparedness to make sure you contribute your quota to the development of the country."
Ya Fatou Ndow, headmistress of Muhammedan Lower Basic School, said for four years, Action Gambia Aid has been assisting the school; they rehabilitated the toilets of both students and teachers and many other things.
"We are grateful and we are saying a big thanks to you (Action Gambia Aid) for the kind gesture and for helping in the development of the school."
Baboucarr Sarr, an ex-student of Muhammedan school who now works at ABD Bank, also donated some cash to the school.
Ebou Waggeh, said: "This is a very joyous moment for me, because when I walked into the school, earlier on, I was almost in tears. This school used to be my world; this is where I picked up my English language and my religion, because the school encourages one in his or her religion.
"The school needs to be profiled; the history and purpose of the school needs to be picked out," he added.
Abdoul Karim Danner, principal of Crab Island Upper Basic School, applauded Action Gambia Aid for the gesture, on behalf of the board and management of the school.
He said the donated materials will be put to good use for the benefit of both the students and teachers.
Read Other Articles In Article (Archive)