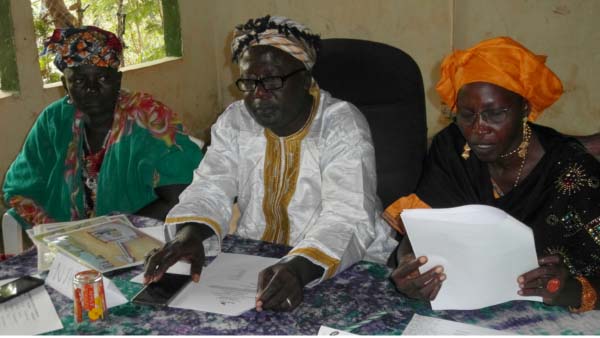 Njawara Agricultural Training Centre (NATC) on Saturday held its annual general meeting at Njawara village, North Bank Region.
Speaking on the occasion, Aja Haddy Panneh, Alkalo of Njawara, commended the management of the centre for their dedication to the advancement of women in food production.
Alhaji Mama Manneh, director of NATC, thanked SOLIDAGRO, a Belgian NGO, for promoting food production, environmental sanitation, and women land rights campaign.
The NATC is implementing a project with the funding from SOLIDAGRO.The project is being implemented in 14 communities in Upper and Lower Badibou, and Lower Nuimi District.The project is said to have 56 hectares of land as gardens in different villages.
Mr Manneh also lauded the Gambia Growth and Competitiveness Project, and the Global Environment Facility for their support to NATC for improving and enhancing the lives and livelihood of youth.
He also hailed Concern Universal for promoting climate resilience to mitigate the effects of climate change to attain food security and contribute to poverty reduction.
Suun Drammeh, board member of NATC, commended the management of NATC for their support to national food agenda.
Mamud Touray, board treasurer, in his financial report of 2014 and 2015, said the board is fully committed to efficient use of resources to enhance accountability of donor fund.
Alhaji Omar Badjie, country director of Action Aid International The Gambia, lauded the management of NATC for upholding the principles of good governance and sustainable livelihood.
He said the partnership between Action Aid and NATC continues to go from strength to strength.
He said Action Aid values good governance and accountability as a way of enhancing popular participation and poverty reduction.
Mr Badjie called on smallholder farmer groups to be steadfast in fulfilling their commitment with NATC to ensure there is regular community mobilisation to carry out community works.
Burang Danjo, programme manager of Concern Universal, said the organisation is committed to working with NATC to bring about sustainable enterprise development.
Badara Jobe, former director of NATC, commended the leadership of the centre for their steadfastness in promoting the development agenda of good governance and accountability.
Alhaji Wury Jallow, food security specialist at Action Aid, applauded NATC for implementing numerous food and environmental projects.
Saihou Gassama, also of Action Aid, expressed delight on the high level of governance and public accountability of NATC.
Read Other Articles In Article (Archive)