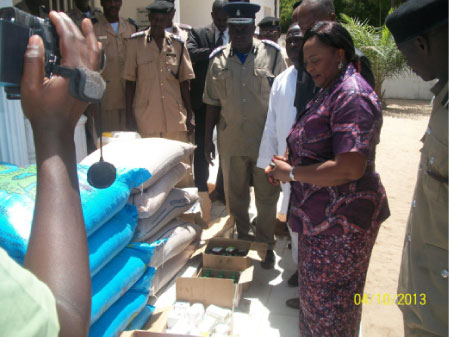 The Nigerian High Commission in Banjul yesterday donated food and non-food items to the Gambia Prison Service. The items include 10 bags of rice, 5 bags of sugar, 5 gallons of cooking oil, a carton of tea bags, a carton of milk, a carton of Omo, a carton of medicines, a carton of toilet roll, a carton of detergent, a carton of salt, a carton of soap, a carton of biscuits and 2 cartons of dettol.
The donation was handed over to the prison authorities at a ceremony held at the state central prison at Mile 2 in Banjul.
Speaking at the handing over ceremony, Esther John Audu, High Commissioner of the Federal Republic of Nigeria to The Gambia, said the prison officers have always done their best for the inmates, noting that it is not easy feeding people who are not producing.
This, she said, was one of the reasons they visited the prison to give assistance.
According to her, they were at the prison as usual to visit Nigerian inmates and expressed hope that the inmates will know that the Nigerian Government cares about them.
'The visit was also meant to see and talk to the prisoners, and see how they are feeling,' the Nigerian top diplomat stated.
She commended the Gambia Prison Service for giving them the opportunity to visit their people, stressing they do not have much to support the prison service, but hoped the little they give out will be useful.
High Commissioner John Audu also lauded President Yahya Jammeh for always being there for them.
Yaya B. Jarju, first deputy director at the Gambia Prison Service who spoke on behalf of the director commended the Nigerian High Commission on behalf of the Gambia government for the gesture, and called on other high commissions and embassies to emulate the Nigerian High Commission's good example.
Noting that the government alone cannot do it all, Jarju lauded the Nigerian High Commissioner for not only taking care of Nigerian prisoners, but also non-Nigerian inmates.
According to him, this was the first time an outside mission is having two members of parliament visiting them at once.
Nigerians, he stated, are law-abiding, noting that it was just accidental that the inmates were there.
He assured the donors that the gesture will be equally distributed among the inmates.
The presentation ceremony was attended by staff of the Nigerian High Commission, members of the Nigerian parliament and officers of the Gambia Prison Service.
Read Other Articles In Article (Archive)