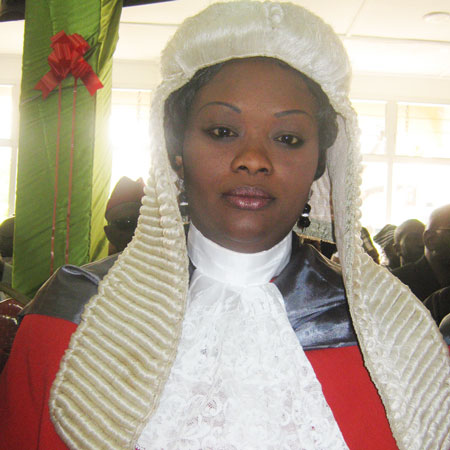 Court Urges Regularisation of Papers
The trial of the three High Court judges and two judicial officials yesterday failed to be mentioned before Justice Moses Richards of the Special Criminal Court of the High Court in Banjul.
When the case was called for mention, defence counsel Lamin S. Camara informed the court that they have gone through the indictment filed against the accused persons, but realised that some documents were missing which, according to him, are very important to their defence.
The defence counsel Lawyer Camara, Lamin Ceesay, Mrs Coker and H. Gaye, informed the court that they had filed a motion to that effect.
The defence further stated that they needed time to communicate with Richard N Chenge, the Director of Public Prosecutions, in connection with the missing documents.
Therefore, the case could not be mentioned, and the court urged both parties to regularise all the necessary documents concerning the case.
Only three of the accused persons: Alagie Sonko, Haruna Jaiteh and Ngui Mboob Janneh were present in court, but they could not take their pleas because of the defence?s objection.
DPP Chenge informed the court that he had not seen two of the accused persons: Saffiatou Njie and Amina Saho.
Lawyer Camara, in reply told the court that, the 5th accused Saffiatou Njie is not within the jurisdiction, and the 4th accused, was indisposed and would appear at the next sitting.
Director of Public Prosecution explained that the 5th accused, Saffiatou Njie, would either be extradited to face the charges or be expunged from the alleged indictment.
At this point, Lawyer Camara retorted saying "you can only extradite a fugitive." And then he said Saffiatou Njie is on study leave.
Alhagie L.S. Sonko (bailiff) was accused of stealing various sums such as D1, 412,283.49, D550,000 and D1, 962,282.49, Haruna Jaiteh, (former Judicial Secretary) was accused of stealing D466, 000, Amina Saho-Ceesay (High Court Judge) was accused of stealing D65, 000 and $1000, Ngui Mboob-Janneh (High Court Judge) was accused of stealing D233,000 and Euro 900 and Saffiatou Njie (High Court Judge) was accused of stealing D350, 000.
Lawyer Ablie Sissoho is representing Ngui Mboob-Janneh.
The case was adjourned to 30th March 2010 to allow the two parties to communicate with each other concerning the missing documents.
Read Other Articles In Article (Archive)