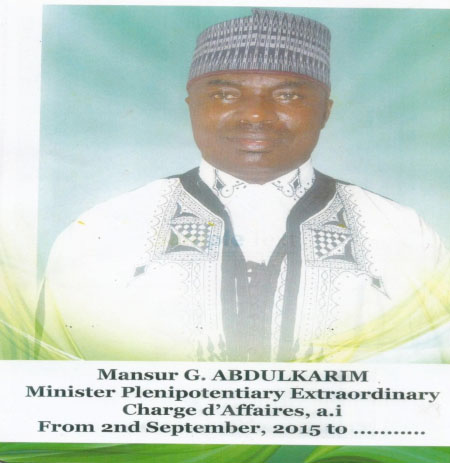 The Nigerian community in The Gambia on Saturday inaugurated a new executive committee for the community at a colourful ceremony held at the Joint Officers Mess in Kanifing.
Speaking on the occasion, Mansur G. Abdoulkarim, Minister Plenipotentiary Extraordinary, and Charge d'Affaires of the Nigerian High Commission in The Gambia, thanked The Gambia government for giving Nigerians the conducive environment to run for their businesses.
He noted that Nigerians are quite numerous in The Gambia but they all feel at home as they go about doing their normal daily activities.
"This is because of the prevailing peace we have in this country," he said.
Mr Abdoulkarim express gratitude to the outgoing executive members of the Nigerian community "for upholding their oath, and been able to steer the community to the right direction".
"They were able to act up to their responsibility that is why we still have a dynamic community of Nigerians in The Gambia," he said, calling on the incoming executive to continue from where the previous one stopped.
He told the new executive that they have to be servants of Nigerians in The Gambia while admonishing them not to see themselves as leaders but servants.
The Minister Plenipotentiary Extraordinary and Charge d'Affaires urged Nigerians in The Gambia to be law abiding.
"We want them [Nigerians] to go about running their businesses in a legitimate way; they should desist from involving in criminal acts which are detrimental to the image of Nigerians," Mr Abdoulkarim said.
Mr Basirou, acting president of the Nigerian community, urged the new executive members to serve the community to their best interest.
"It is never an easy task but one has to persevere as expected," he said, adding that the new committee should look up to the outgoing one.
Read Other Articles In Article (Archive)