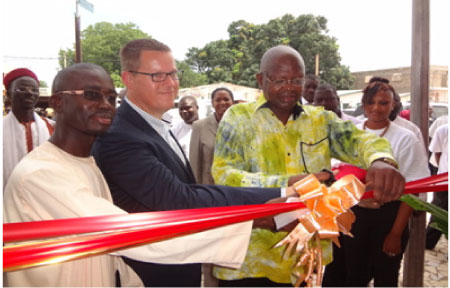 NICE Gambia on Monday opened its first generation NICE Centre in Tabokoto along the Brikama highway.
The official inauguration of the centre was attended by officials of NICE and their partners from within the country and beyond.
In his welcome remarks, the managing director NICE Gambia Limited, Omar Njie, said the day was a special day for them in many ways.
According to him, it marked the birth of the next generation NICE centres under the NICE roll out project, partly funded by the European Union.
According to Njie, in 2007 there were only two NICE centres opened in the country; but now they are operating seven centres from Banjul to Brikama.
He said over the past years the NICE business remained resilient when faced with many challenges motivated by both internal and external forces.
"We have been very enduring and focused during all those turbulent times and, in 2010, we transformed the business from owner-operated centers to a franchise model to promote entrepreneurship," he said.
He used the opportunity to commend the Dutch government for their support through the PSM subsidy in helping NICE Gambia to set up five franchise centres.
"Today the vision of NICE International is to spread out to Africa through The Gambia, and this is becoming a reality. This is the first of 50 next-generation NICE Centres to be setup throughout The Gambia, Tanzania and Zambia," he said.
He then used the occasion to thank NICE International, which was represented by the Managing Director, Ties Kroezen, who also doubles as the chairman of NICE Gambia, for this unreserved support.
Ties Kroezen said some time ago, NICE International developed the NICE concept for solar-powered internet centres and after developing the concept, they had to select a country  for a first pilot.
"We selected The Gambia as a stable and secure country to launch our business," he said.
In 2006, he added, they opened the doors of the first two NICE centers in the Gambia to offer to people affordable and reliable access to energy, IT and internet.
In his remarks to officially open the centre on behalf of the permanent secretary at the Ministry of Information and Communication Infrastructure, Ebrima D. Jobe, director of ICT, said the new center will offer a wider range of services, such as fast internet connection at affordable prices, technology solutions for education, work and business.
He further noted that NICE, by virtue of its development objectives, have demonstrated significant strides in making communication services available and accessible to our people for social and economic development, and other benefits for Gambians.
The objective of NICE, therefore, complements Gambia government's efforts to implement the National Information and Communication policy and its plans of ICT in communities, which is also being implemented by MOICI and the MOBSE through an ITU grant,  Jobe added.
Read Other Articles In Article (Archive)