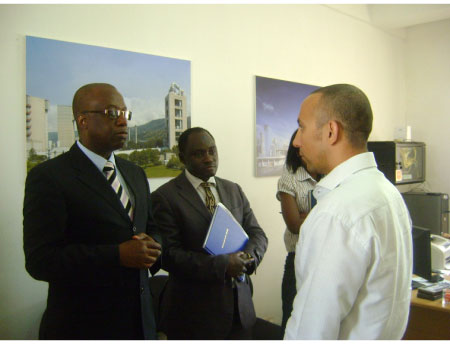 Momodou B. Sarr, chairman of the reinstituted National Factories Board (NFB), has expressed concern about the protection and safety of workers.
Mr Sarr raised the concern during the first phase of the board`s conducted tour of some of the factories and facilities within the Greater Banjul Area.
The factories visited included the Atlantic Gaz, Gambia Groundnut Corporation (GGC), Star Soap Factory and GACEM Italcement Group.
The board has vowed to visit and examine all factories operating within the length and breadth of the country.
The chairman of the NFB said the board is mandated among others to approve licence, provide guidelines for operations in an effort to minimize factory accidents and promote all time safety of workers.
He pointed out that this national exercise is not a witch-hunt, but a knowledge sharing and exchange of views and monitoring.
He advised all to promote occupational and health safety of the factory, workers and the surrounding environment.
Chairman Sarr, who doubles as the executive director of the National Environment Agency (NEA), reiterated that the safety and the provision of protective and safety gears to workers and improve the condition of the environment they are working under would never be compromised.
Recalling on some unfortunate factory accidents in the recent past that cost has lives and rendered heavy damages to properties, Sarr said this exercise will avert or minimize the occurrence of such accidents in factories.
He therefore calls for the cooperation of all in a holistic move towards the protection of workers, factories and the environment.
In the quest to turn away from the old crude way in which factories operates, the board will regularize their mode of operation to international standard or equivalent to the recommended standard in The Gambia.
Mr Sarr, who is also the focal point for the Global Environment Facility (GEF) for the West Africa Region, disclosed that the areas of inspection for safety and health purposes include ventilation, lightening system, first-aid facility, protective gears/clothing, toilet facilities, exposure to hazards, waste management, proper guarding of machines and emergency exit.
He said the purpose of provision of the above facilities in a factory is to ensure the safety and health of all persons employed in the factory is protected, prevention of preventable accidents and to ensure that heavy machinery and boilers are properly guarded against any possible accident.
Read Other Articles In Article (Archive)