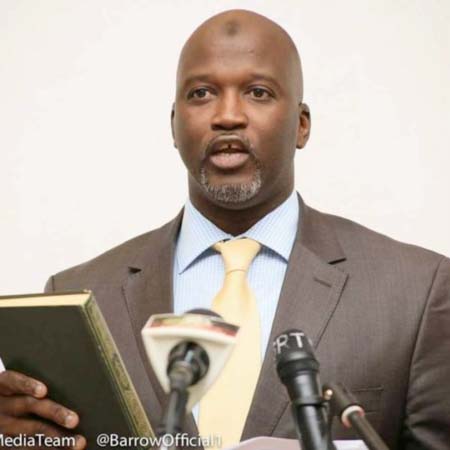 The newly-appointed Attorney General and Minister of Justice, Aboubacarr Marie Tambedou, was yesterday sworn in at a ceremony held at the Kairaba Beach Hotel

The ceremony, presided over by President Adama Barrow, was attended by other cabinet ministers.
Aboubacarr M. Tambedou was among the first eleven ministers to be appointed in the new government.
Mr Tambedou worked at the Office of the UN prosecutor for the International Criminal Tribunal for Rwanda, from 2003 to 2012, and became Assistant to the office of the prosecution, from 2012 to 2016, of the UN tribunal for the former Yugoslavia.
Tambedou also said his ministry will review the constitution, abolish draconian media laws, and institute reforms with a vibrant and independent judiciary.
Speaking at the ceremony, President Adama Barrow commended the newly-appointed Justice Minister, for being "very helpful during the whole transition period," adding that Tambedou "stood by the coalition throughout that time".
President Barrow said minister Tambedou is a "true patriot who loves The Gambia dearly", adding that The Gambia is "very important" to him.
"There is no doubt that he would serve the country to the fullest," he added.
President Barrow said the justice system is very important in any society; that it is good "having someone who is willing to work with the Gambian people", and that the country should surely have the best justice system ever in its history.
The President urged Gambians to exercise patience as the remaining ministerial positions will be announced later.
"We are taking our time to select the best people for the jobs," he said, adding that there should be "no rush, no hesitation".
"Therefore, I am appealing to Gambians to exercise patience, while this thing is being worked out," he said.
Speaking earlier, the Minister of Foreign Affairs, International Cooperation and Gambians Aboard, Ousainou Darboe, also commended the newly-appointed Justice Minister, saying Minister Tambedou is an "honest, hardworking and courageous person".
Minister Darboe said further that Minister Tambedou is not new to the law and legal system, and "he is very versatile in the area he has been given to oversee, and there is no doubt in that".
Read Other Articles In Article (Archive)