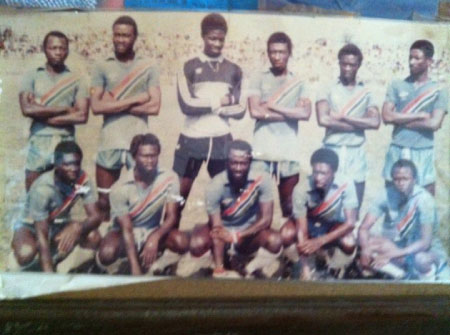 Sang John Ndong's mettle to take up the job as head coach for the Scorpions has instilled fresh belief into the national team and the local is one of the main grounds for optimism in the next two years to repair the damage that was worsened in recent years of our football's defining moments.
Ndong's personality may not be an essential characteristic to most but certainly a welcome one.
The former Gambian footballer is a charismatic man not afraid to express a forthright opinion and stands up for his beliefs, and having that presence can only help him in shouldering huge expectations with the national team.
With a lack of leadership on the pitch in recent engagements, Sang can at least stride into the Independence stadium with an air of authority.
His pedigree quite apart from Honorable Alagie Sillah as Gambia's most educated, experienced coach and a lot more besides though may not be celebrated as the most successful manager, has the credible record to reckon with for the job in the current situation of our football.
He has experience of once a player, captain, coach, being in the circuit of coaching for quite a while and having long been watching the Scorpions in falter, bringing him back could be of great help to turning despair into hope for the Scorpions and as a serious force in Africa.
His reputation also means he has a better chance of being able to attract a better quality of player - something fans saw as one of the weaknesses of his predecessor.
In his recent call-back for Gambia's current top player (Modou Barrow) from the English Barclays Premier league side (Swansea City) after the player's fallout with Raul Savoy for failing to honour a World Cup qualifying tie with Namibia in September 2015, has pictured how The Gambia could line up amongst other football African nations in the coming years though Abdou Jammeh and Pa Modou Jagne's expulsion from the squad that faced Mauritania in March 2016, may have sparked some growing concern by fans but his reasons in a press conference upon unveiling a 20-man squad list were genuine – 'Abdou Jammeh (T Boy) was cautioned with two yellow cards in Durban against South Africa and at home against Cameroon, and therefore should serve his suspension.
While Pa Modou Jagne was part of his listed players but had to be dropped because he was involved in an accident during that weekend's club football (from his own words) just four days before announcing his invited players'.
The return of Mustapha Carayol and Omar Jagne could be a glimmer of hope too for a nation that has been longing for admirable results in continental football ever since.
Gambia has over the years been in the doldrums of African football and has equally gone through a managerial switch, not even to mention a two-year ban imposed by CAF for age cheating in 2013.
Sang Ndong's reappointment by GFF is one step in the right direction one might say to gradually end African football associations' preference for white or foreign coaches; if maintained and given the necessary support throughout following an abysmal showing between June and September 2015 which led to Raoul Savoy's axing - though the Swiss coach insisted he wasn't sacked but resigned instead.
African football administrators have always failed to appreciate and make use of their own resources and talents but evident examples could now be learned from Cape Verde's Lucio Antunes, Nigeria's Steven Keshi, now Samson Siasia and Senegal's Alieu Cisse, just to name but a few, who are decidedly homegrown.
"One of the reasons why I took up the job at this crucial time is to help set standards for Gambian coaches. To be recognised, to be respected, to be given opportunities and to be supported," Sang said on his unveiling on 3 February 2016.
"I am here now to help rebuild and the rebranding process of the Gambia national team."
In rebuilding, let's not start drawing lines or putting down curtains against some or whatsoever, let's leave it OPEN! We've got a bunch of players; very young, very old and not young, not old. Let's try and give chance to everybody.
It's a process; it is not a one of, he added.
Gambia's hopes may seemed lost of qualifying but let's know that the Scorpions are playing for pride that will obviously determine our next seeding in the 2018 Cup of Nations qualifiers again. This is the decisive time for our football, very important!
Sang will hope the players he's working with can make a quick transition to his style and ultimately play with energy and commitment whereby whenever you sit at the independence stadium stands with your eyes closed, you should sense there is a passionate team on the field.
That will resonate with Scorpions' fans, which have become almost apathetic over the last few years of consistent failure both on pitch and administratively.
Remember Sang was also quoted as saying "we've got two years to make sure most of these players are given the equal opportunity of playing real games for the Gambia and being assessed very fairly".
So after being welcomed with open arms by most fans on GFF's decision to go local for a rebuilding process, Sang's comeback must have been an absolute pleasure.
But consideration must always be that Sang Ndong has not taken over the national team managerial role to win a trophy or qualify the country to a Nation's Cup dream.
He's there to work on and keep a formidable national team for our future international challenges or engagements.
It is a rescue mission sort of and that breathing space is timely needed for him to get building a solid foundation for Gambia to restart by 2019.
Life is under no obligation to give us what we expect and that is why blessed is he who expects nothing, for he shall never be disappointed.
Be it on either ways you base your assessments on his second spell with the Scorpions, the feeling is that a page could be turned in those history books of Gambian football pretty much soon if all hands are on deck (collaborative efforts)!.
Let's be realistic that we cannot swim for new horizons until we have courage to lose sight of the shore.
Again, we are in a process of seating back, looking inwards and try developing ourselves, and thus not be carried away by the results, which is our major cause for concern.
So there is some glimmer of hope. Fingers crossed! 
Read Other Articles In Article (Archive)