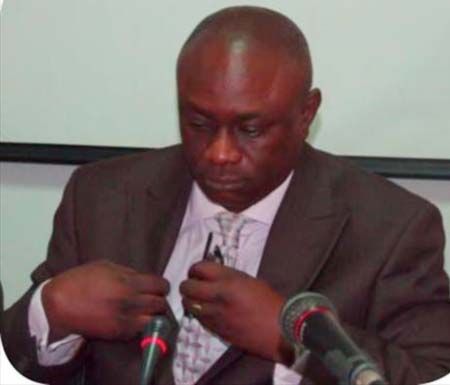 The Governor of the Central Bank of The Gambia has said money laundering and organised financial crimes have remained key problems in the West African sub-region.
This statement was made yesterday at a five-day regional course on Combating Money Laundering and Terrorism Financing, held at the Paradise Suites Hotel in Senegambia.
The course, which brought together participants from countries in the sub-region, was organised by the West African Institute for Financial and Economic Management (WAIFEM).
The Governor, whose speech was delivered by the 1st deputy Governor of the Central Bank of The Gambia (CBG), Basirou Njie, at the opening session of the workshop, said: "Money laundering and related organized crimes remain key problems in our sub-region and economic growth and development are impaired by this menace."
The governor said the region "cannot afford to ignore the consequences" of money laundering and organised crimes as they gravely affect the economies of countries in the sub-region.
He said he was, however, delighted that "most countries in the sub-region have made concerted efforts" towards criminalizing money laundering.
"I appreciate their efforts and urge everyone present today to take it as a challenge in our collective resolve to combat this menace," he told the participants, who are key officials from WAIFEM member countries' central banks and economic affairs ministries.
The Governor also said the growth of organized forms of crime globally "is alarming".
"In today's open and globalized financial world characterized by strong mobility of funds and the rapid development of new payment technologies, there has been an upsurge in cases of financial and economic crimes and this has put the integrity of the financial system in jeopardy," the Governor continued.
The extent in terms of dimension, nature and level of sophistication of financial crimes has over the last two decades attracted the attention of the international community, he added.
"Indeed, since the events of September 11, 2001, there have been concerted efforts by all nations to work together to implement effective measures against serious crimes such as terrorism, drug trafficking, human trafficking, and avert the misuse of the international financial system by such criminals," he further stated.
He, therefore, said the fight against money laundering and financial crimes cannot be won unless nations put in place a robust criminal legislative structure, maintain regular review of legislation, refocus on investigation and criminal dimension, as well as ensure funding of investigation of organised and financial crimes.
In his remarks on the occasion, WAIFEM Director General Prof. Akpan H. Ekpo gave a brief overview of WAIFEM and its activities.
He said the course would cover broad themes on money laundering and financial crimes that would be of invaluable help to the participants and the member countries.
Read Other Articles In Article (Archive)