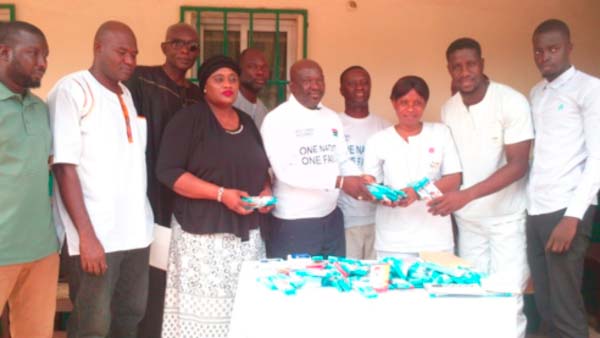 The New Gambia Movement, a civil society organisation aiming at assisting the Gambian people in aid, politics and civil rights education, on Saturday donated 100 digital thermometers to Serekunda Health Centre to help improve the healthcare system by providing basic screening facilities.

Speaking at the presentation, Dr Surahata Ceesay, director of Health Services, said Heal Family Project was to improve the healthcare system of The Gambia in filling the gap in the health sector.
He said the movement was looking forward to working with health centres and hospitals to provide them with the necessities they are lacking such as medical supplies, blood pressure machine and testing kits.
According to Dr Ceesay, they intended to work with different charitable organisations, people abroad and all well meaning Gambians in seeking funds to help healthcare provision in the country.
He stated that the thermometers would help doctors in doing their work professionally and to help keep a healthy family.
Alieu Sillah, Serekunda ward councilor, commended the New Gambia movement for their initiative in donating thermometers to the health centre.
He assured that it would go a long way in helping save lives as Serekunda is a highly populated area that needs these services.
He also thanked the staff of the centre for delivering good service for the people living in the area.
Elianna Sambou, a mid-wife said they are thankful to the movement for giving them support as they were not having thermometers and sometimes have to borrow from other units to check temperature of infants.
"It is difficult to check and estimate high fever with mere touching," he complained, adding that they are faced with lots of challenges when it comes to requisite equipment in doing their work but with this kind of support, it would uplift their services.
Read Other Articles In Article (Archive)