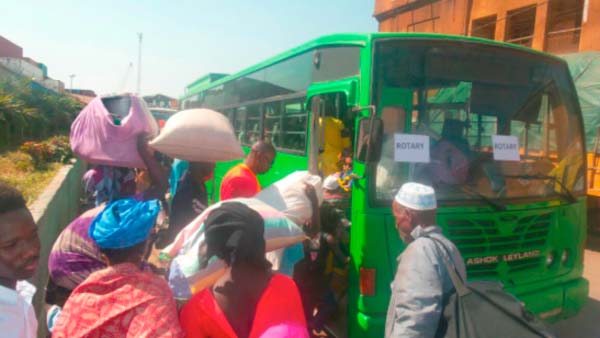 The Rotary Club of Banjul has hired some buses to facilitate the transportation of Gambians returning home from Senegal where they sought refuge during the recently solved political impasse.

The buses have transported the returnees from the ferry terminal in Banjul to their closest point of residence.
Abdoulie Cham, president of Rotary Club of Banjul, said food and drinks were served to the people in the bus.
He said about 13,000 returnees, mostly women and children, were received and transported by the Rotary Club of Banjul.
He said as Rotarians, they deemed it necessary to help complement the government's efforts in helping to transport the returnees as part of this year's theme for Rotary 'Rotary Serving Humanity'.
Mr Cham also thanked the management of Medical Research Council Gambia for adding a bus to ones hired by the Rotary Club of Banjul.
He also commended ABC Learning Centre for providing some water and food, and Quantumnet for providing 5,000 bottles of water to facilitate the operation.
The operation of Rotary Club of Banjul was coordinated by Rotarians Momodou Lamin Camara and Abdoulie MA Jallow.
Read Other Articles In Article (Archive)