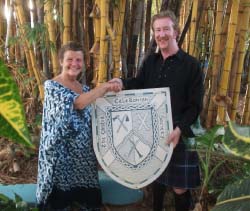 The Gambia Caledonian Society which is the organisation that represents Scottish people in foreign lands and whom raise money for local causes, has a new Chieftain.
Geri Mitchel who has been the Chieftain for ten years, passed over this Scottish Heritage title to Mark Taylor a week ago at a small ceremony at the Safari Gardens Hotel in Fajara. Taylor said "it is with great pride that accept this role and hope that I can carry on this tradition with honour as we head towards our 60th anniversary here in The Gambia" .
Originally formed in 1953 under the auspices of the British High Commission, The Caledonian Society has been for the most part quiet, apart from the occasional dinner over the years in celebration of St Andrew's Day, the patron saint of Scotland. Taylor, a prominent TV and Video Producer from Edinburgh, Scotland's capital, was the driving force behind the Scottish Embassy Project, the forerunner to a Scottish NGO enabling University students from across the academic spectrum to undertake short-term voluntary projects in The Gambia.
A new Executive Committee has recently been formed consisting of Scots or of those of Scottish descent, whereas 'membership', adds Taylor, 'is open to individuals from any background or nationality who has an interest in Scotland or Scottish culture'. Unique to The Gambian branch, the Society has also launched The Junior Calies, the childrens Division headed by 8 year old Junior Chieftain Tovyah ('JC') Massaneh Rubinstein, a Gambian-Scot and student at SBec International school in Bijillo.  Deputy Cheiftain Becky Heiland, a teacher at Fojanga School, Fajara adds 'it is important that we move away from the old colonial image that the previous Society may have portrayed. We are a young Committee, with fresh ideas and plan some exciting and fun events for the year ahead'. Indeed some of these activites include the 3 main events on every Scot's calendar namely The St Andrew's Day Ceilidgh (traditional dinner-dance in full Scottish ceremony) in November, Hogmany (the Scottish New Years Eve celebration), and the Burns Night Supper (January) including a major cross-cultural 'afro-celt' Concert. Other events include traditional Highland Games, school activities, exhibitions, and much much more.
In addition, the Society are scheduling traditional Scottish dancing lessons from August onwards (venue to be announced). Annual membership has been set at D150 per adult, D75 for NGO workers and volunteers, and D50 for Junior members, which can also be paid for at the Scottish dancing lessons or by contacting the Society directly. For this, members will receive discounts for events, a regular newsletter and other benefits.
As Chieftain Taylor concludes 'As a rule, Scots have always felt very welcome in The Gambia. For this we are very grateful. There's a special bond between our peoples. We are both small nations, and we are friendly, warm-hearted and proud. The Scottish community may be few in number but we are committed to play our part in the development of this beautiful land, just as we are to our own'.
Read Other Articles In Article (Archive)