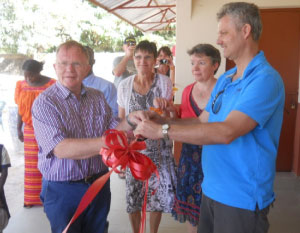 More than ten Dutch nationals led by philanthropists Bennie Ahlers and Yan Ras recently inaugurated a new building for the Christian Community of Latrikunda (CCLK) Nursery School in Kanifing Municipality.
The new complex comprises classrooms, office and stores.
Bennie has brought to The Gambia numerous small, medium and large-scale projects in education, sport, agriculture and health, while Yan is the director of a Dutch construction company working in partnership with Dutch institutions to support Third World projects. Both men came together to raise funds to build six classrooms in Latrikunda in few years thanks to the donor Nieu Luwsen.
 Bennie also presented office furniture for the office and classrooms, school materials for the students and clothes for residents of the community (Latrikunda Yiringanya).
More than one hundred children, youths and adults stormed the CCLK premises to receive the clothes and shoes.
 Speaking at the presentation of the building and other materials, Bennie told the community that his part is to bring sponsors, collect and ship materials to help the community.
He thanked Yan for his support and his friends and relatives who accompanied him to the school. Yan also expressed delight at being able to do so much for the community and expressed confidence that "the project will be completed as planned".
The chairman of the CCLK, Richard Joe Mendy, told the visitors that what made the relationship between them and the CCLK special "is that both parties believe that one sure way of transforming a nation and building a better society is through education".
He thanked Bennie for his intervention and Yan for putting up a very solid and beautiful building and donating a new laptop computer for the office.
Mr Mendy assured them of a proper upkeep of the school, while thanking them for their support.
Read Other Articles In Article (Archive)