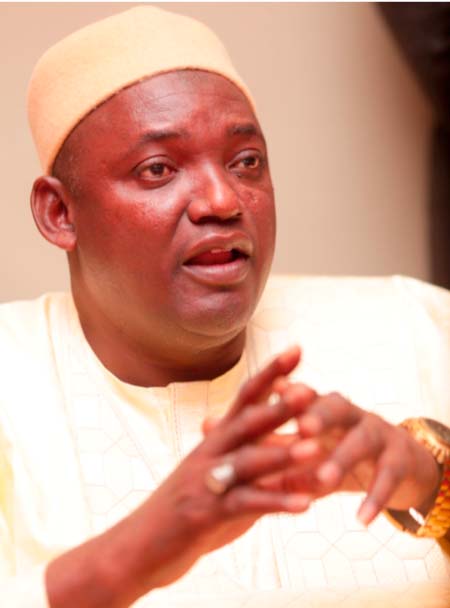 President Adama Barrow has said his government intends to construct a bridge over the Banjul-Barra crossing point, which serves the crucial link from the city to the north of the country.

"We will bridge even the Banjul-Barra crossing," he said, adding that the so-called bridge builder that The Gambia had was probably fake.
"I will be the new bridge builder," he laughed, as the gallery, comprising officials and journalists, cheered him up during the press conference yesterday at the State House in Fajara.
He said this in relation to questions about ongoing works at the Trans-Gambia crossing point. The Yelli Tenda-Bamba Tenda crossing point serves as crucial trade and communication route for Senegal and other neighbouring countries.
"We have solved all the issues causing the delay in construction of the bridge. The last report I got about a month ago indicated 30 percent completion of the bridge," he said.
He said the erection of pillars were the most difficult part of the bridge's construction which represented the said 30 per cent. The rest is even quicker to finish, he added.
Electricity, economy tops Barrow's priorities
President Barrow has said that fixing the economy has been at the top of his priorities when he took over, seconded by electricity supply for the population.
He said he took over government with an economy that is virtually bankrupt. "It was paramount task for my government to stabilise the economy first. And we have gone far with this," he said.
"Everything is built on the economy. That is why the Minister of Finance has been very busy. Perhaps the busiest in the government, to make sure we secure budget support, stabilise our economy," he added.
Adama Barrow, who would not divulge his plans as to when he intends to step down as a "transitional leader" said electricity supply is also top of his priority.
"We listen to the advice of our technicians, so that we can get the best for this country. So it has started working and we have signed a few contracts and negotiations are at an advanced stage with Senegal and other big investors," he said.
"Even investors look at your power capacity before investing," he said. "We want this country to have reliable and affordable electricity."
He also said that a lot of investors have expressed interest in this area but added that they are treading carefully as a government.
"We have a road map that seeks to address the short, medium and long term energy needs of the country. This energy problem has been in the country for 52 years. We hope to solve it so that it will be a part of our legacy."
Read Other Articles In Article (Archive)