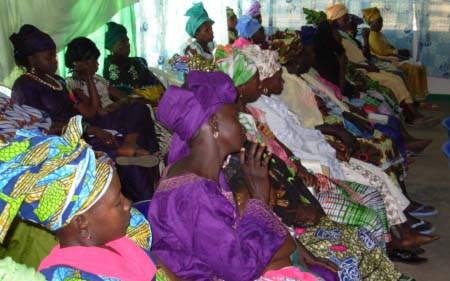 The National Agricultural Land and Water Management Development Project (Nema), the International Fund for Agricultural Development (IFAD) and financed project recently gathered 80 start-up businesses of women and youth at Rural Farmers' Agricultural Training Centre at Jenoi in Lower River Region.
Participants were selected after the project embarked on country-wide trekking identifying potential businesses based on demand from the beneficiaries themselves by filing Nema request forms.
With the volume of participants, the training had been split into two groups of 40 participants for each training session to be conducted by Concern Universal (CU).
Mr Momodou Gassama, Nema project director, said that the Gambia government had seen IFAD's intervention and support in the country as timely, noting that Nema project seeks to build on the achievements of IFAD's previous projects-LADEP and PIWAMP with an added important component.
He added that Agricultural Commercialization, which seeks to graduate subsistence farming to commercialization-producing more than what we eat, to sell for profit.
According to him, this kind of training was very important for Gambian farmers, saying that the government of the day under the leadership of President Yahya Jammeh had put great emphasizes on farming- helping farmers to improve their livelihoods from commercial farming to substance farming.
He reminded farmers that Nema project was different from other projects, saying that during the design of the project, Gambian farmers where not left behind, IFAD mission team, consultants (international and local), youth organizations, women groups, amongst other host of individuals were all part of the designing process.
According to him, it's Gambian who identified their priorities during the consultation and designing of the project, noting that Nema project would be implemented successfully.
"If you think Nema project will fail, or the project will not address the need of Gambians, you will be proven wrong in few years to come, and if you're a failure, please don't associate yourself in the project, because the project is only looking for successful organizations and individuals," he said.
He pointed out that IFAD approved the highest an amount of $65 million and the government also have political will on agriculture had committed itself to counter-part financing.
"With the approach Nema project has taken to train famers to become entrepreneurs, in few years to come, The Gambia will not export food item from any European country," he disclosed.
He advised Gambian youth to see the project as theirs, saying that the project was targeting women and youth with the aims to transform the Gambian agricultural sector from simply subsistence farming to an increasingly efficient market system.
Gassama further emphasized on the importance of entrepreneurship training, saying that entrepreneurship training was very crucial if they want to eradicate poverty in the country, especially youth and women, through increase food production along the entire food value chains, citing rice and vegetable production.
Deputy Governor, Lower River Region, Momodou Njie, thanked IFAD for the continuous support that they provide to The Gambia and assured (IFAD) that the training amongst all the other activities of the project would see a sustainable future in Agricultural development and growth in this country.
Deputy Governor Njie recalled on some of the past trainings Nema project conducted in his region for farmers, noting that farmers in his region had now understand farming techniques and market skills.
Lower River Region, Regional Agricultural Director, Ebrima Saidy, thanked Nema project for organizing the training for farmers.
He commended Concern Universal for conducting successful trainings for farmers and advised them to keep up the good work.
Farmers' are expected to cover the following topics: definitions and concept of business, the commercial farming environment, farm business cycle, opportunity recognition, idea generation and how to select the best business ideas, how to start your business, the basic marketing concepts, important aspects of farm business, understanding cost, what can affect farm business profit, record keeping, what is a business record and why keep them, market survey questionnaires, marketing survey exercise, financial management, and the entitled concept.
Read Other Articles In Article (Archive)