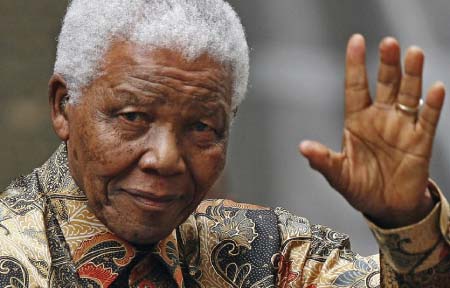 Books on the late great African hero available at Timbooktoo bookshop
The great African liberation fighter, Nelson Mandela, who died on 5 December, will be buried on Sunday in Qunu, his native village in the Xhosa Transvaal region.
This past week the world has stopped in unity to celebrate the great life of Mandela aka Madiba: millions of commentators, thousands of TV and radio stations and countless media have spent hundreds of hours extolling his great life: as a young boxer, lawyer, and finally, stout defender of African dignity against the onslaught of the Boer colonialists. His 27 years in jail did only two things: strengthen his resolve to win liberation for his people against the claws of apartheid and lung cancer which finally took his life last week. Mandela we salute and pray for.
Now, what about having a glimpse of Mandela's life from his own words? Well, I wish to recommend his autobiography LONG WALK TO FREEDOM (Abacus books). In this book, published in 1994 when he was elected first president of independent South Africa, Mandela traces his life from childhood, to adulthood, struggle, jail and freedom in 1990. There are two chapters on his days as a political prisoner, indeed the most important political prisoner for that matter, on Robben Island. Here he explains in great detail how prison was able to strengthen his struggle and shame his jailers. At the end, his jailers saw sense and freed him. With his release, he again methodically worked with his former enemies to forge a great constitution for South Africa, and when he was elected president in 1994, he preached reconciliation not recrimination. This is why he won the Nobel Peace prize in 1993 and won international respect.
The presence of almost 100 foreign heads of state at his funeral last Tuesday is a testimony to the fact that indeed, he was a man of peace and honour. All these virtues come out well in his autobiography, LONG WALK TO FREEDOM. I recommend this book of 767 pages to all for weekend reading.
Mandela also gathered many documents from his archives , including letters while imprisoned, notes and doodles during meetings, his dreams, anti-apartheid meeting notes, and these have been published as CONVERSATIONS WITH MYSELF, which has a forward from President Barack Obama. This provides a rare chance spend time with Nelson Mandel the man, in his own voice, direct, clear, private.
Another book on Mandela at Timboktoo that I wish to recommend is NELSON MANDELA by Betty Boothroyd. This is a children's book on the life of the great man. If you want your kid to be inspired by his great life, this is the book he or she must read.
If you want a critical appraisal of Mandela's life including his presidency from 1994 to 1999, then you should read MANDELA'S LIFE by Tom Lodge, also available at Timbooktoo. Another historian Peter Limb has just released a new book also simply called NELSON MANDELA. This book too is very current and up-to-date on the life times of our great African hero.
David James Smith has just published a book entirely on Mandela's childhood days in the village called YOUNG MANDELA. This is a great book and I wish to recommend it to all. For those of you who love pictures the ILLUSTRATED LONG WALK TO FREEDOM is for you, depicting the struggle against apartheid.
All books listed here are available at Timbooktoo.
Tel: 4494345
Read Other Articles In Article (Archive)