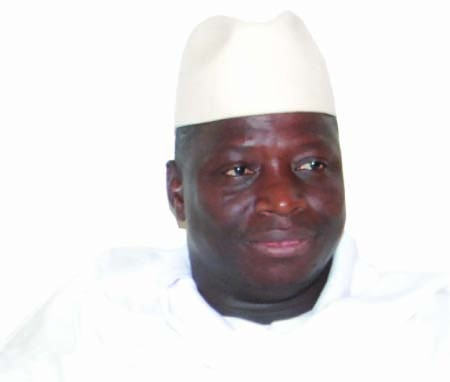 President Yahya Jammeh has said that neither elections nor a military coup will end his grip on power, stressing that it is only God, who made it possible for him to be President in 1994, who can do so.
President Jammeh, who was addressing a meeting in Brikamaba, Upper Fulladou East in the Central River Region on Saturday, said anybody who thinks the opposition is going to win the forthcoming election is "day dreaming".
"Elections will not make me to lose power nor will military coups make me to lose grip of power. It is only the Almighty Allah, who made it possible for me to come to power in 1994 in a bloodless coup, who can make this possible.
"So anybody who thinks that the opposition are going to win the forthcoming elections is day dreaming," Jammeh told thousands of cheering people.
Jammeh, who will be seeking a fourth term of office in the 24th November polls, has vowed not to engage in any election campaigning, promising that the elections would be free and fair.
The presidential election will bring together what seems like a fragmented opposition, whose members, they say, have no other option but to unite in order to pose a threat to the ruling APRC.
Continuing his meet-the-people tour, President Jammeh also warned against tribalism in Brikamaba and Jareng in Niamina East, which areas he said will not attract any meaningful development in their respective communities as far as he is the President of The Gambia.
He stated that the demands of these villages will never be addressed if they do not set aside their tribalism, noting that the only reason the people of these villages did not turn out in their numbers to greet him was "because a different tribe other than Mandinkas is steering the affairs of this country."
"The former President of the Republic who was in office for 32 years was not able to attract any meaningful development for you, even though he is a Mandinka," he said, adding that when he (the former President) was in power, other tribes rallied behind him in the interest of national development.
"This type of attitude is uncalled for, and it only attracts retrogression instead of progress," he added.
Responding to demands by the villagers for the provision of portable drinking water, electricity, building of a high school and ferry services, among others, Jammeh told the gathering that their demands will not be addressed.
"Most of the people here are from the surrounding villages, and you the natives are indoors refusing to come out. How do you expect your demands to be fulfilled by me, when you the people of Jareng know that the person who should solve your problem is here, and you are not out?"
According to President Jammeh, whether it is Brikamaba or Kanilai, if you don't support his government, don't expect development.
"From now on, my government will only inject development to those areas that support me. You are lucky that you are on the main highway. Ask the people of Kiang West and Baddibou Salikene, who said that even if their road is paved with diamonds, they will not support my government. So if you think that election is coming, and that if you express your needs I will solve them, then you are joking," he told the meeting attended by mainly youths.
Jammeh also told the people of Jareng that if it were not for the sake of Kaur, their demand for a new ferry will never be fulfilled, noting that Kaur has been rallying behind his government since the transition period.
"Those villagers who stood beside my government since the transition time are the ones going to benefit from the development projects coming first, and even if you decide to change now, that does not mean that you will benefit so soon," Jammeh further stated.
The Gambian leader also reiterated his earlier calls for attitudinal change among the youths of the country, noting that youths should engage in farming, help their parents as well as venture into economic activities, if they are to become productive citizens of this country.
Other speakers at the meeting included Fatou Trawally, women mobilizer in Brikamaba, Hon. Yerro Mballow, NAM for the area, Waa Ceesay Alkalo of Jareng, Mahlima Ceesay, youth mobilizer in Niamina East, among others.
Read Other Articles In Article (Archive)