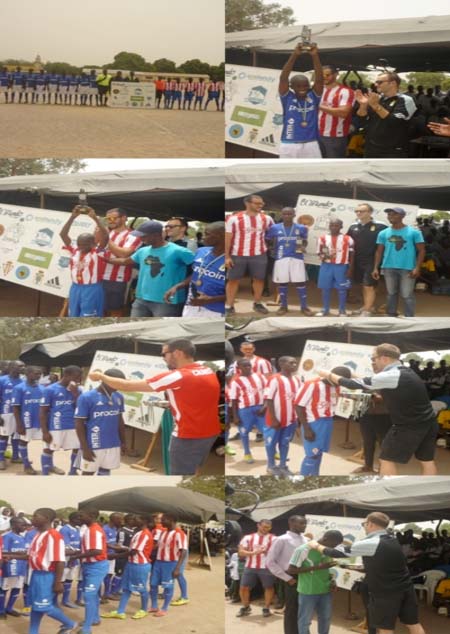 Ndungu Kebbeh Basic Cycle School last Wednesday defeated Kuntaya Basic Cycle School 2-nil in a friendly match organised by Asturies for Africa Association.

The football match, played at Ndungu Kebbeh Lower Basic School football ground, was meant to bridge much better relationship and unity between youths in North Bank Region.
The match was graced by Saul Craviotto, a four-time Olympic medalist in sprint canoer, Sid Lowe, Guardian British Newspaper sport correspondent in Spain, and many other international guests from the Spanish NGO.
Ndungu Kebbeh LBS was sponsored with set of jerseys and socks by Real Oviedo, while Kuntaya LBS were sponsored with a set of jerseys and socks by Sporting Gijou.
At the end of the game both sides were each presented with a trophy while each of the players received a medal.
Mbye Ceesay and Baboucarr Njie were on target for Ndungu Kebbeh LBS in the 22nd and 84th minutes respectively.
Saul Craviotto, four-time Olympic medalists in sprint canoer described himself as lucky coming to The Gambia, saying it was a great experience.
He said one of the things for which he would always remember The Gambia is the hospitality of the "wonderful people" of The Gambia.
He also said he would encourage those who took part in the competition to visit The Gambia again as they had had a lifetime experience in the country.
He said the efforts of all players stood out during the game - their willingness to make tackles, chase the ball and work hard - and it was great to watch all of them.
Oscar Sainz, vice president of Asturies for Africa Association, said it was great to bring together the two teams, adding that apart from the football match the association has projects in various villages across North Bank Region where they dig boreholes for various communities.
The Gambian people are very good to work with, nice and hardworking," he said, adding: "It is a pleasure to be able to help out."
Abdulrahman Bangura, Asturies for Africa Association Gambia managing director, said the association had been doing a lot in The Gambia, adding that trying to develop young people in school is part of their projects.
They have also constructed health posts in Ndungu Kebbeh, Sibito in Kiang, a nursery school in Aljamdu, as well as supported various schools and communities with boreholes.
He stated their efforts are geared towards improving the livelihood of communities in The Gambia.
Sid Lowe, the Guardian British Newspaper sports correspondent in Spain, for his part, said both teams put up a huge amount of effort during the game.
Ousman Kebbeh, headmaster of Ndungu Kebbeh LBS, expressed delight about the initiative and thanked the organisers.
Both coaches also thanked organisers of the friendly match.
Read Other Articles In Article (Archive)