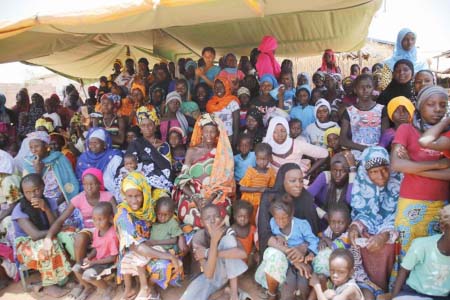 T
he National Council for Civic Education (NCCE) on Monday held a face-to-face meeting with the community of Kurau Arfang in Sandu District, Upper River Region.
The interface was part of the 'Access to Justice and Legal Education Project' being implemented by NCCE, NALA, FLAG and ADRS, and funded by the European Union.
Through the project, NCCE has held campaigns in West Coast Region, Lower River Region and Upper River Region in order to raise awareness of people, particularly the vulnerable groups, on their civic rights and how to access justice.
The URR campaign, held at Kurau Arfang and Diabugu Batapa, marked the end of the final phase of the pilot project which commenced in November 2014.
Speaking at Kurau Arfang, Yusupha Bojang, NCCE programme officer, said the project is meant to empower the masses to be aware of their civic rights.It also aims to ensure that legal and civic education reaches the communities.
Lama Barrow, representative of FLAG, said the enactment of the Women's Act is a manifestation of the government's commitment to empower women.She noted that women have the right to inheritance as well as not to be maltreated.
Kurau Arfang village was also sensitised on issues of settling land disputes, children, marriage and disputes, among themselves.
Jahara K.S. Juwara, chairman of Basse Area Council, commended the organisers for such "a laudable initiative", saying the campaign will help educate the masses on their civic rights and access justice.
He also thanked NCCE and EU for complementing the government's efforts while urging the natives of Kurau Arfang village to make use of the knowledge gained and share it with those not privileged to attend the interface.
Junkung K. Saidy, civic education officer at NCCE, gave an overview of the fundamental human rights, saying everyone has a right to life, liberty, property, education, freedom of expression, conscience, and assembly. 
Read Other Articles In Article (Archive)