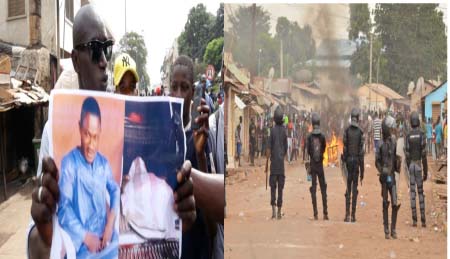 The child of the late Ousman Darboe, a Sierra Leonean who was reportedly killed by personnel of the Anti Crime Unit of The Gambia Police Force is on the brink of being a school dropout due to lack of money for school fees.

A father of two, Ousman at the time of his demise on 23 July 2019, was a mobile phones and laptops trader at the Serrekunda Market. He was married to a Gambian Binta Jaiteh.
"The objectives of my husband have always been to ensure that our children achieve quality education with a view to enable them contribute immensely towards nation building," his widow Binta Jaiteh said in tears. "However, I can tell you that his dreams of ensuring that our children reach university level are collapsing."
After the death of Ousman Darboe, government vowed to probe the incident in order to establish the cause of his death.
"I think even if the government conducts a post-mortem examination, I believe as family, we should have access to the result especially myself as the deceased's wife. Seven months to now, I haven't seen any result from the government. I just heard people saying that the government claimed my husband died as a result of 'asthma.' But even if this was the case, we deserve to know the truth," she complained.
She added. "I am 100% sure that my husband didn't die as a result of 'asthma'. Probably, people that are outside would not know how my husband and I were living. If he was attacked by asthma, he would not have driven to the Anti Crime Unit. What I can tell you is that because Ousman was not a Gambian, so nothing will come out in this matter."
Her late husband, she added, was the breadwinner of the family. "I can tell you that it's been six months I didn't pay my house rents. In fact, if it was not the understanding of my landlord, I would have been homeless by now. Things are very bad for us at the moment," she said.
According to her, thanks to the help of Allah that her girl child was able to get sponsor. "However, my son still couldn't get sponsor. In fact, she said her son is not going to school now because the school authorities vowed to send out of school any child who doesn't pay his/her school fee."
The matter, she went on, needs to be investigated by independent body. "How will my children feel when they grow up and know the people who killed their father? Do you think they will not be enemies? The way they treated Ousman was not fair," she stated.
Binta Jaiteh said she had to involve in petty trading in order to take care of herself and her children.
On 24 July 2019, after being reported that Ousman died as a result of police torture, thousands of Gambians mainly young people thronged the Serrekunda Market protesting his death.
The protesters carried banners with different descriptions such as; "Say No to Police Brutality;" "We don't need Anti-Crime Unit in our society they are secret killers" and "we don't need another brutality or dictatorship that would continue killing young people," among others.
The protest led to the arrest of 37 youth by the police and eventually charged with eight criminal counts including arson, unlawful assembly and rioters demolishing building.
Police spokesperson, Lamin Njie, was contacted earlier for comments. He said the matter is supposed to be investigated by Ministry of the Interior. However, all efforts to reach the minister of the Interior proved futile.
Read Other Articles In Article (Archive)