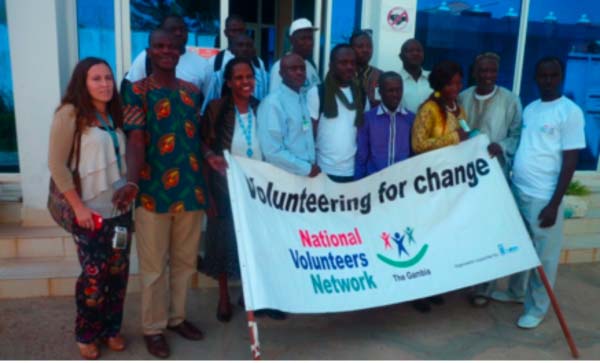 National Volunteers Network The Gambia Saturday handed over the mantle of leadership from the outgoing governing board to the newly elected board of VolNet-Gam, at a ceremony held at UN House at Cape Point in Bakau.
VolNet-Gam aspires to consolidate the efforts of different volunteers-involving organizations, VIOs, in preparing volunteerism, and ensuring that volunteers' welfare is protected during and after service.
The new VolNet-Gam governing board, which comprises representatives of VIOs in the country was elected at the annual general meeting, held in November 2014 to serve as members of the governing board of the network.
Speaking at the official handing over ceremony, Adama Beyai, the outgoing chairperson National Volunteers Network-The Gambia, thanked all those who attended the ceremony.
He said as they hand over they want to remind all concerned that VIOs and volunteers play an important role during their tenure in office, and without the support and encouragement received, they could not have some of the materials or achievement they talked about or handover.
The outgoing chairperson added that volunteers play an essential role in the Gambian way of life, as the community relies heavily on volunteers, in both the government and in the delivery of services.
VIOs and volunteers are involved in all facets of the community, services, culture, health, welfare, sports and recreation services, youths, conservation and the environment, he said.
Nonetheless, he added, volunteerism in The Gambia, even though as old as human existence, has a strong formal definition or structure to harness and exploit its benefits in the interest of national development and the drive toward defeating poverty.
Speaking shortly after the handing over ceremony, Nuha Nyassi, the incoming chairperson, thanked the outgoing chairperson for the good efforts on behalf of the organization.
He said the first board has made a lot of achievements, adding that as the new chairperson, he would also work to meet expectations.
Read Other Articles In Article (Archive)