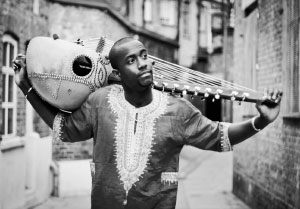 If Gambia and the world at large are skeptical about the personality of this young Gambian artiste, the talented afro-manding musician is wasting no time to take all Gambians by surprise in the music industry.
Entertainment is privileged to inform its esteemed readers who Sura Susso is.
Sura Susso is a Gambian by nationality. He lives in Bakoteh but his original home is Baddibu Saba in the North Bank Region where his father came from.
Sura, who has travelled to so many countries in the world, has made a record in the African music.
Speaking in an interview with Entertainment on Monday around Africell building, the Bakoteh-born artiste revealed that music is his way of life, describing it as the only career he will pursue in his life until he hangs up his boots.
Sura, who is a kora player and composer, has recorded a lot of albums, adding that his first solo album was released in 2011 entitled Sila-Kang which contains 11 tracks.
"I am working on my next album to create a new base for the new generation," he said. "I have travelled to almost thirty-five countries and in those countries the music is so organised.
"In The Gambia we have our afro-manding music and the country is very rich in culture.
"I did a song with Gee and the song is called Dam-kornop. As a Gambian kora player I have performed for the Queen of England where they also appreciated The Gambian culture."
Sura therefore calls on young musicians to make more research and let them rush not, in life.
"People are here who are talented and creative," he said.
Read Other Articles In Article (Archive)