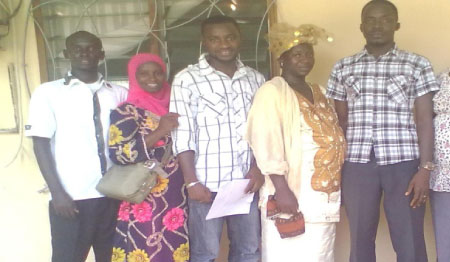 The National Volunteer Network-The Gambia (VolNet-Gam) on Thursday held its congress and elected a new executive that will steer the affairs of the organization for the next two years.
The main agenda of the congress is to enable various distinguished national volunteer organisations to create an umbrella entity that will be entrusted with coordinating and harmonizing all their activities and strategic visions.
Speaking at the congress, Lamin Jobe, representative of the Ministry of Finance and Economic Affairs, said volunteerism has a long history in The Gambia.
He added that through volunteerism, communities mobilize themselves to render invaluable services such as constructing houses, schools, roads and other infrastructures.
Over the past 50 years, the country has benefited from international volunteers in skills sharing and other gestures, saying that since 2001 the UN General Assembly has recognised the important role volunteerism plays in society.
According to him, they are in the process of regulating consultancy for voluntarism policy. "We should note that it is important our registered organization works towards meeting its target," he said, calling for strong mission and vision as well as strong strategy for their work.
Lasana Drammeh, president of the PIA, revealed that synchronizing and harmonizing activities of various national volunteer organizations as per aspirations and objectivities enshrined in the Volnet-The Gambia, will go a long way in creating positive multiplier effects of synergy, knowledge and information-sharing among others.
"There is no right or wrong reason for volunteering, it is just important you do volunteer," he opined.
He was hopeful the congress would serve as a forum and as an opportunity to renew contact and discuss problems of mutual interests with delegates from member organizations in the country.
"We should all be more than willing and ready to be part of the process and logistics in transforming Volnet-The Gambia into an admirable national institution which shall complement government and development partners' efforts in fostering volunteerism as a key instrument to national development," said the PIA president
Drammeh said: "On our part at the PIA, volunteerism is a key mandate and a cardinal principle in our institutional policies and framework and hence we will gladly and willing indentify ourselves with all aspirations of Volnet-The Gambia in spreading and instilling the spirit of volunteerism, sense of responsibility and patriotism, particularly in our young people."
Pa Ansu Sanneh, Regional coordinator at the PMU/UNDP, made an overview of Volnet and noted their success registered in various regions.
"Volnet, in close collaboration with UNV office and UNDP, shall continue to promote the idea of national volunteering, consolidate achievement registered and consult on the way forward about the future of Volnet and the National Volunteer Service Center," he said.
At the congress, one Adama Beyai was elected as chairperson while Mberry Jobe was elected to serve as the vice-chairperson.
Adama Beyai, the chairperson of the network, said she was delight to be elected to head the organization and calling on the full support of members of the organisation.
He revealed that without the commitment of various organizations' support, the noble task ahead of them will be difficult to attain.
"As volunteers we will do our best to make sure what it takes to protect the interest of volunteers and contribute to national development is done."
Other executive committee members are Mariama Jallow, Maimuna Bah, Yankuba Darbo, Jareja Gaye and Dembo Sillah.
Read Other Articles In Article (Archive)