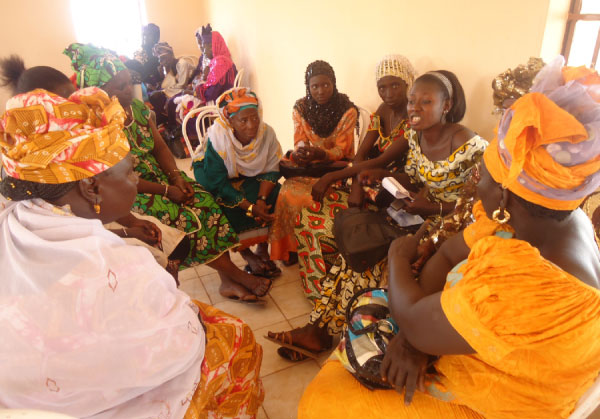 Fatou Trawalleh, the lady councillor in Lower Fulladou West district, who doubles as vice chairperson of the National Women Council in CRR, has said illiteracy should not be a barrier for women to assume political positions in The Gambia.
"Being an illiterate or having no conventional education should not be a barrier for women to gain political positions in this country," she said.
Madam Trawalleh made the remarks at a day forum held at Armitage Senior Secondary School in Janjanbureh at the weekend to targeting women from various political parties who discussed some of the issues that are limiting women's participation in the political processes.
She was reacting to some of her colleagues who said that because of high level of illiteracy in women that is why they are not contesting or competing with the men folk in terms of political or other decision-making positions.
Councillor Trawalleh added that in some countries like Senegal, there are illiterate women in top political and decision-making positions that represent the interest of women at all levels regardless of political backgrounds or ethnic differences.
The Gambia can also do such a thing so that there can be equal representation in all decision-making positions, for effective and sustainable development of the country.
Some of the factors that hinder women  from contesting in such political positions, according to what has been gathered from the women, are illiteracy, poverty, family dependency, fear/shyness and other social problems attributed to stigmatizing each other.
Women agreed to step up their participation to be part of the decision-making bodies both at the local and national assembly elections.
Fatou Trawalleh, who doubles as the vice chairperson of the National Women Council, underscored the importance of participation in any national endeavour as far as men and women are partners in development.
"Men and women are partners in the making and there should be equal opportunities for all if we are to treat each fairly," she emphasised.
She noted that time has now come for Gambian women to take up the challenge to struggle for their political rights for any national position both at the level of decision-making positions and at the local community level.
The forum, in light of the issues, also charted a way forward among them were awareness about women's political rights and to be more familiar with electoral processes to improve women's participation in political decision-making.
The women in Central River Region expressed their gratitude to the organizers of the programme for making it possible for women of various political backgrounds to sit together to speak out on issues and the welfare of Gambians.
Pamela Cole, national coordinator for WANEP-Gambia, stressed the need to increase women involvement in political positions and other decision-making positions for them to advocate their rights at all levels.
Mrs. Cole says the exercise is part of the activities under the United Nations Democracy Fund project WANEP-Gambia together with its implementing partners, FAWEGAM and Pro-Hope, which commenced on 27 January 2012 and will run for five days across the country, thus giving the women the opportunity to contest in the forthcoming National Assembly and Local Government elections to better advocate for their rights and other issues affecting women and the girl child.
Michelle Jawo Demba, programme coordinator of Pro-Hope national, said the ultimate aim of the forum is to see how women can come together to effect change by electing more women into decision-making positions, so that their voices can be heard and their issues can be addressed through representatives at various levels.
Pro-Hope International is a civil society organization that mainly focuses on gender-based violence and reproductive health targeting women, youths and with occasional male involvement, says Mrs. Jawo-Demba.
Gimbi Dem, in sharing her experiences as well as her challenges, lamented over their lack of education and the fact that "most of the committees are dominated by men".
Other women mentioned the difficulty they face when elected unto some committees and how all too often they are considered unsuitable.
Read Other Articles In Article (Archive)